Football Money League Trends (and what you should do next)
The latest report, by Deloitte, into the state of football club finances has recently been published. The Football Money League 2022 profiles the financial performance of the highest revenue-generating clubs in world football. We've cut straight to the overall changes and given a run down of the trends identified and what this means for clubs – what you should be planning over the next 12 months for commercial success.
The impact of COVID-19 has continued to be felt throughout the footballing world and its effects have shifted the way we approach fan engagement. Despite the challenges of fans not being in stadia, followed by the challenge of bringing them back, football has shown remarkable resilience and proven throughout that it continues to be of such importance in so many people's lives.
The big headline news from this year's report is that Manchester City top the table for the first time becoming only the 4th club ever to do so in the 25 years of the publication. The top 10 otherwise looks broadly familiar with a few new entries within the top 20 – most notable from the Premier League are Leicester City, West Ham United and Wolverhampton Wanderers.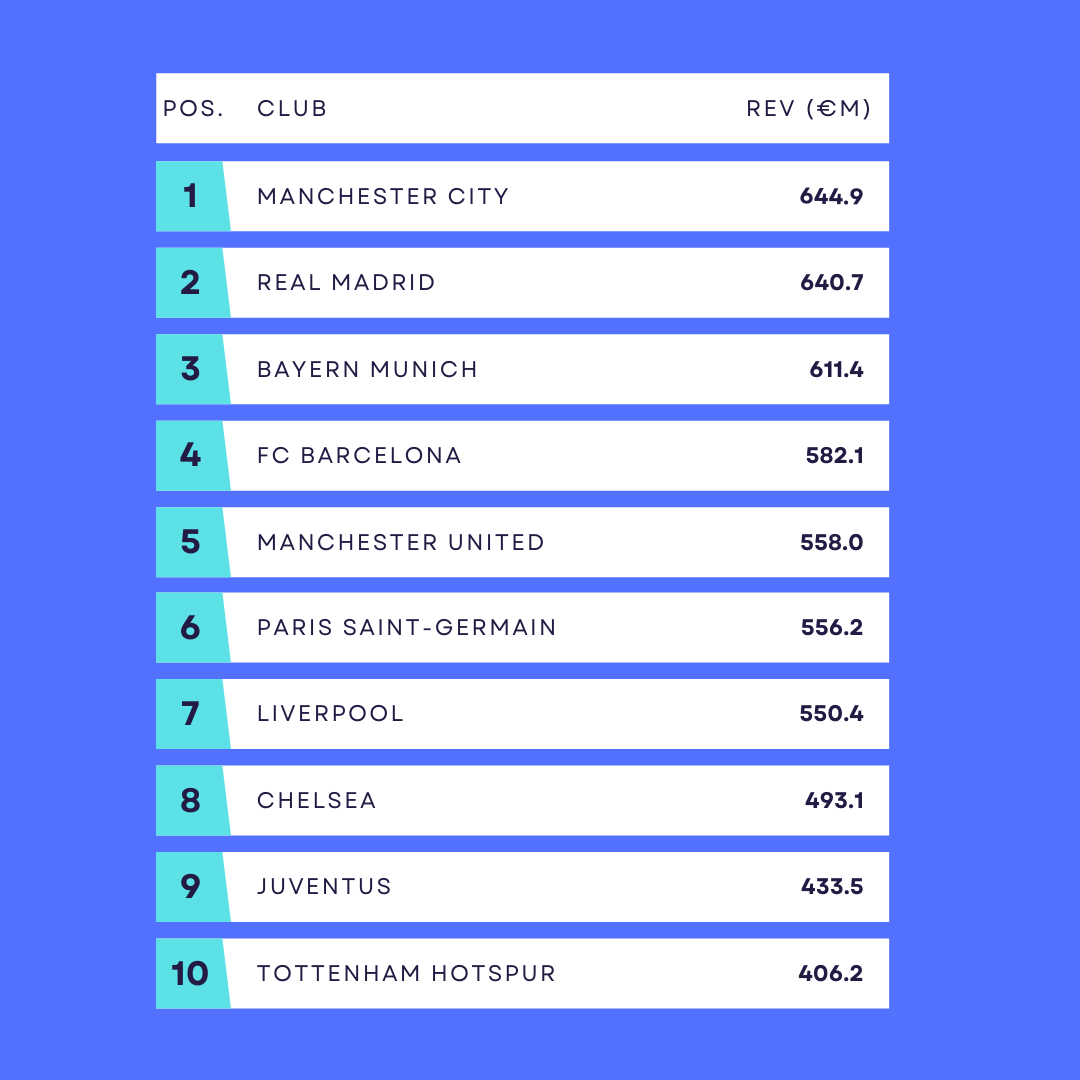 The evolving revenue split
The absolute revenue figures have shown the decline that was predicted but what is also interesting to note is that the split between the 3 main streams of revenue – broadcast, matchday, and commercial – is also changing.
Matchday
It will come as no surprise that the revenue from matchday income declined to almost nothing (1%) in 2020/21. This is something that is set to bounce back and then continue to grow.
Broadcast
The income from broadcast is something of an anomaly in the latest review due to the deferral in payments because of the delayed re-start of the 2019/20 season (that was completed in the 2020/21 financial year). From 2021/22, and beyond, growth in broadcast payments is predicted to be minimal.
Commercial
Commercial income has not seen as significant a drop as many had predicted – clubs really did embrace ways to engage fans and somewhat mitigate the impacts of the pandemic. Having found ways to boost commercial revenues in the toughest of times bodes well for clubs to continue to build on this.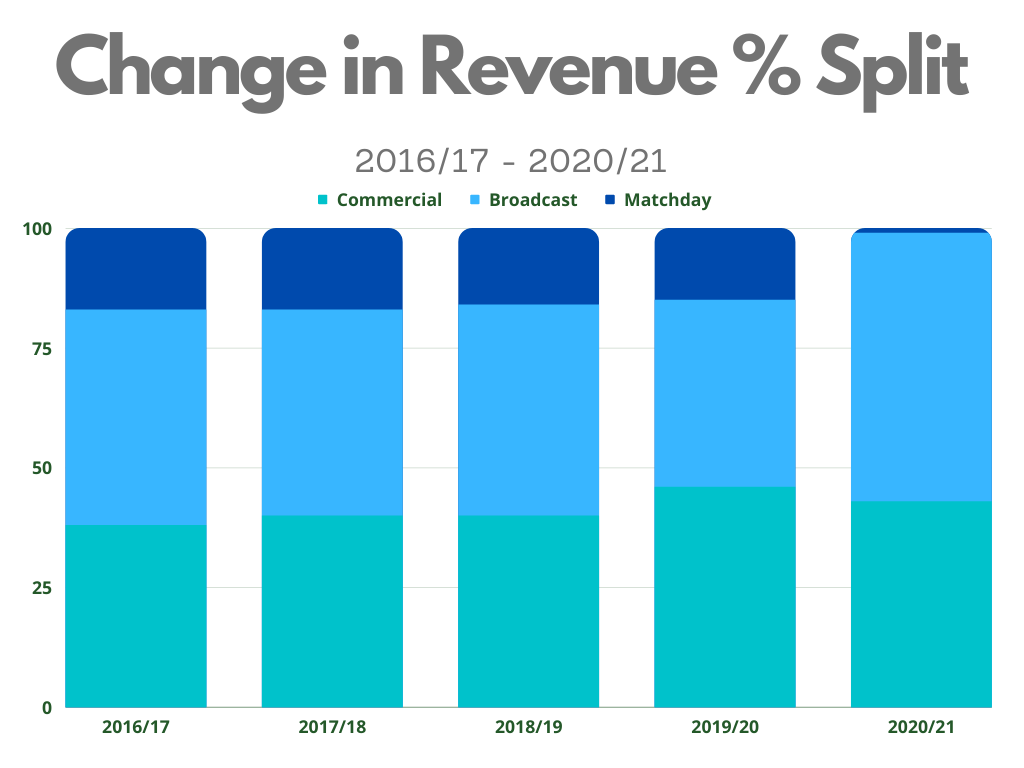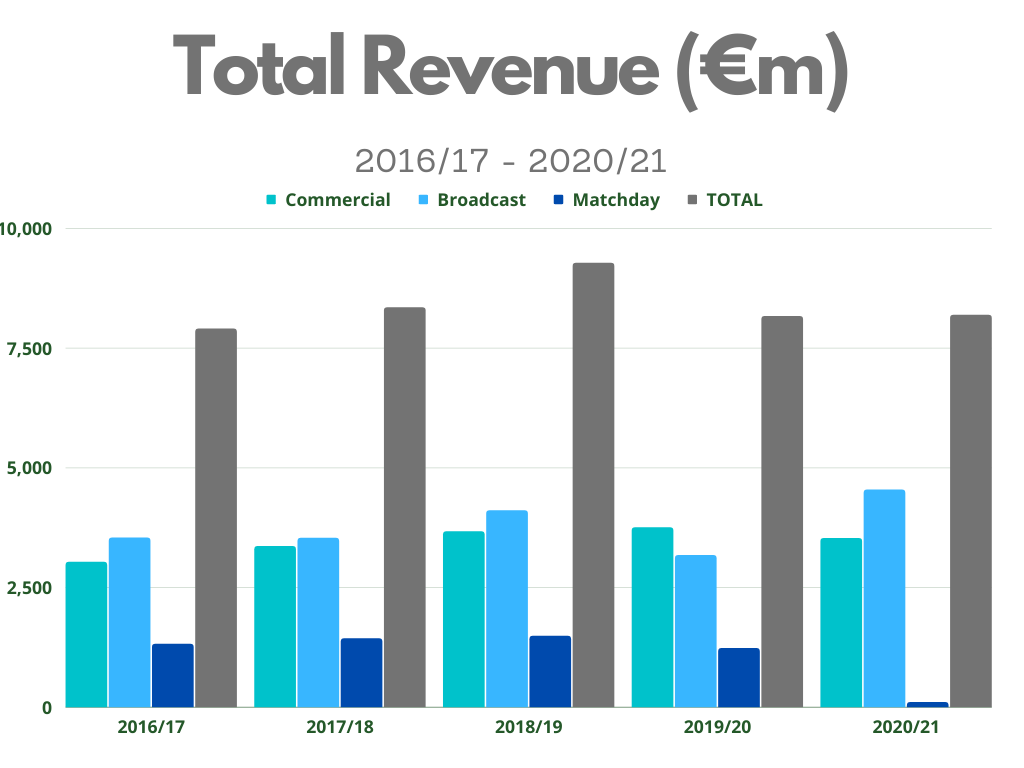 The trends and what to do next
The Football Money League 2020/21 has identified key trends and so we've taken a look at 5 of them and how you can set your club up to benefit from what's likely to be coming next:
Continued recovery from COVID-19 and adapting to a new market environment
With live football halted, and then resumed behind closed doors, it became more important than ever to bring the game to the fans and digital has been the key to this.
The rules around live streaming have now reverted to the pre-pandemic norm but this hasn't dampened an appetite for all the extra video content that clubs started to create and collate. West Bromwich Albion have had great success launching their members only content via a new service, WBATV+, and we're seeing more clubs wanting to do similar to both give the fans what they crave and also as a new revenue stream.
In short think about what you can offer your fans and then how you can best provide it for them. There is so much you can do to better connect with your fans digitally – as they have now come to expect.
Investment in stadia infrastructure to enhance and facilitate a greater matchday and non-matchday experience
For years we've been working with clubs on enhancements at the stadium. Swansea City were the first UK football club to launch mobile in-app tickets and since then many clubs have followed. The convenience of having a ticket on your phone is now becoming the expected standard and the move towards contactless payments means it is ever-relied-upon.
Alongside upgraded turnstiles the F&B counters are another area to look at. Your fans will already be used to contactless payments (and indeed expecting these) but what about enabling them to pre-order in your club app, either before or during the game, and quickly and easily collect their pre-prepared order at half time?
For non-matchdays at the ground you can still utilise digital to augment the in-person experience. Take a look at Chelsea FC's Shed Wall at Stamford Bridge – a physical space to appreciate club legends, digitally enhanced by QR codes leading visitors to unlock a world of information, in their chosen language.
Further evolution of sponsorship into partnership driving enhanced commercial revenue
Data, data, and more data – you know you need it, you probably have it, but what do you do with it? This is key to delivering enhanced commercial revenues through profitable partnerships. You need to get the right content, to the right fans, at the right time in order for partners to realise the true value of your digital real estate. We've developed our Clubcast fan experience platform to allow you to do just that.
If you're not utilising the data available to you and not realising the potential of the connections you have with your fans, you are really missing a trick. If you're not aware of the potential of your fan data, or you've not yet considered how to collect it and store it then it's time to act now!
Then think of all the ways you can drive supporters to your owned channels. Of course you're probably using push notifications, but are you making them work for you? What about App Clips, Widgets?…
New and innovative technology, changing consumer habits and owning content strategies, including the emergence of NFTs
The rate of change when it comes to technology isn't slowing down so there's a lot to keep up with. Content strategies are always hugely important but think carefully about the channels – where are you wanting your fans to be? Social is a great place for conversations, but if you can move fans over to your website and app then you can really build on that relationship – give them interactive features such as quizzes and predictors (that of course are sponsorable too!), or encourage ticket, merchandise, or hospitality sales. It's all in your hands.
Why not make the next matchday ticket something special? By offering a collectable, special edition NFT ticket, your fans are going to want to get some of the action and you boost ticket sales and fill those stands.
It's all possible.
Growth of women's football, and sport more widely
The growth is already there and shows no sign of slowing. While your fans are consuming everything about the men's teams, make sure you showcase the women's too and grow the interest in the game for your club. Does your website and app have the women's team fixtures, results, tables, and teams? If not, why not? More exposure for brands associated with the teams will always be welcomed, so the revenue is there for the taking.
So what now?
We're sure you've heard a lot of the above before (we've certainly written about much of it before) but taking a close look at the state of the game, on and off the pitch, has focused the report authors in on these being the areas where clubs will make the difference in the very near future.
So don't get left behind. Get in touch with us today to explore upgrading your fan experience by working with a team who will help you deliver more for your fans and your club.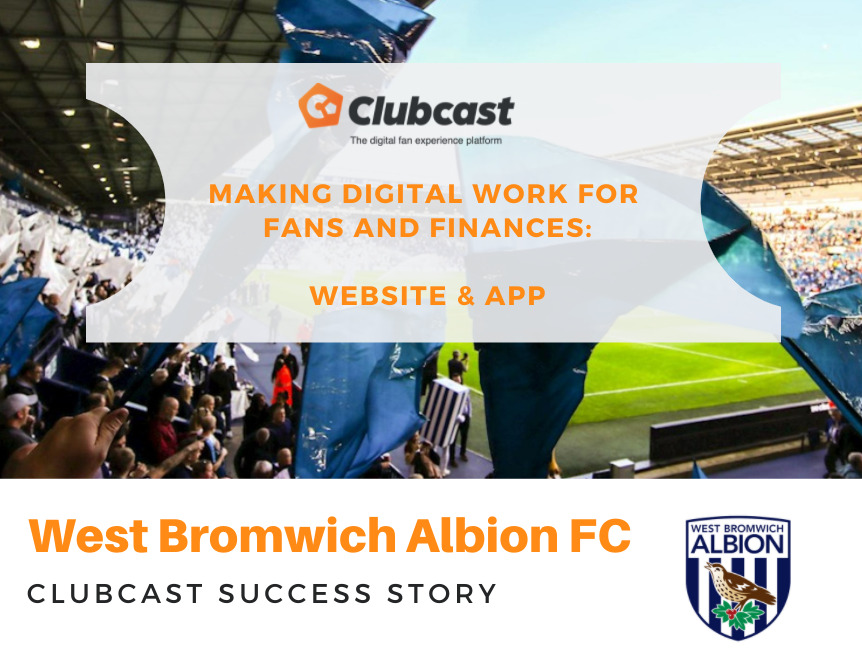 West Bromwich Albion Case Study
See how The Baggies are engaging fans and seeing a 450% ROI through their Clubcast app and mobile website:
Download