Other Media Shortlisted for 4 Awards at #STA2018 and #DrapersDigitals
1 agency, 2 clients, 3 projects, 4 award nominations
Other Media are delighted to have been shortlisted for 2 awards in the Sports Technology Awards for our work with Premier League football club, Swansea City, and a further 2 awards in the Drapers Digital Awards for our work with badass adventure brand Vollebak.

Best Tech for Fan Engagement
An internationally-recognised mark of excellence, the Sports Technology Awards, #STA2018, is a unique celebration of technology-led innovation across sport worldwide.
Other Media have been recognised for our work developing Swansea City's Official Swans fan app, a digital development that saw the tech-savvy club become the first football club in the UK to enable fans to hold match day tickets on their phones. The app has been nominated for 'Best Tech for Fan Engagement'.
This nomination reflects our understanding that engaging and satisfying the needs of football fans is about action on and off the pitch; match days and non-match days; and consuming information wherever you are. The Swansea City fan app offers a way for fans to connect with their club, with each other, and feel part of a community. They are afforded the convenience of consuming everything Swans they need (and this really is about need when you are so passionately supporting your football team) at their fingertips.
Best Tech for Athlete Welfare
We have also been working with the club to develop an app to support the wellbeing of their players. By transforming a welcome brochure for new players into a comprehensive app, mental health support services, local information, contact details and training schedules have been brought to the fingertips of the players. The information is quickly and easily updatable by the backroom staff, ensuring the players have the latest information and that support is readily available to them. The app has been nominated for 'Best Tech for Athlete Welfare'.
Swansea City Football Club recognise and embrace the need to make mental health top of the agenda and so we have delivered a solution that has been praised by the Premier League and now is gaining wider recognition.
Best Website Design and Best Use of Content
The Drapers Digital Awards, #DrapersDigitals, recognise the fashion businesses that are leading the way with their digital strategies, and vollebak.com has been nominated for 'Best Website Design' and 'Best Use of Content'. There couldn't be two better-suited nominations for this work as the key to this project was enabling the newly designed website to showcase the brand. Content is at the core of this project which has seen impressive visitor engagement and over 1,000% increase in sales.
Vollebak are a start up taking on the outdoor industry. Founded by twin brothers and adventure athletes Nick and Steve Tidball, they use science and tech to make sportswear but not as you know it.
vollebak.com has been developed as a responsive, optimised website that is an elegant ecommerce solution bringing the ultimate in technical sportswear to highly demanding adventure athletes. The site reflects fully on the already established brand values of science, attitude and intelligence. The client has the flexibility to create pages with great editorial control showcasing the brand and the amazing array of content that is carefully tailored for its audience. Through this content and its beautiful presentation, readers are hooked into the highly intriguing and absorbing site and become long-standing followers of the brand as well as paying customers.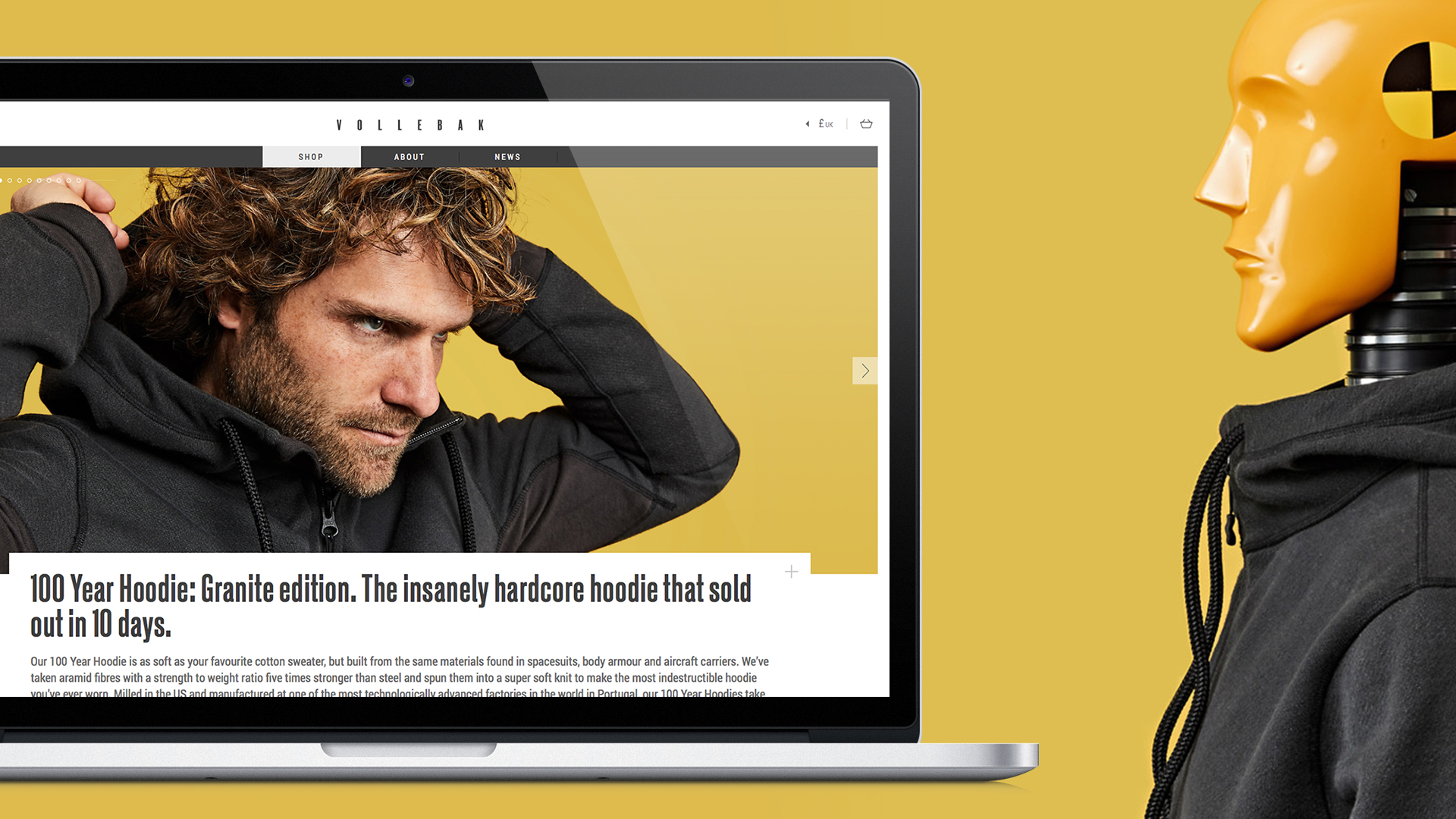 Our Approach
Working with a variety of clients keeps us fresh and enables us to continually refine our User Led Design Experience methodology that puts the customers at the core of our projects. Understanding the customer experience and their point of view is paramount to delivering award-worthy work. The insights we bring from this way of working shapes the digital strategies we advise on, the websites and apps that we build and ultimately the digital relationships we help to build.