Peterborough United
After securing promotion to the Championship for the 2021/22 season Peterborough United FC needed to promote their digital plans. A new website, with the new Posh+ service providing streaming, is the first stage in the club's digital evolution.
The challenge
The club are going places but had a website that was no longer befitting of a Championship club and offered the digital team at Peterborough United little control over content and no data from which to understand and better serve the faithful Posh supporters.
Our solution
Built on our fan experience platform, Clubcast, we have crafted a new suite of digital products for the Posh, including a modernised and bespoke club website, with app soon to follow, featuring a new streaming service. The brand work that we have engaged in with the club, coupled with our extensive user experience design expertise, has produced a truly beautiful digital destination for fans.
The club now have control of content production and scheduling as well as a wealth of data coming back into the club with which to further enhance each fan's experience. The ROI potential is now huge.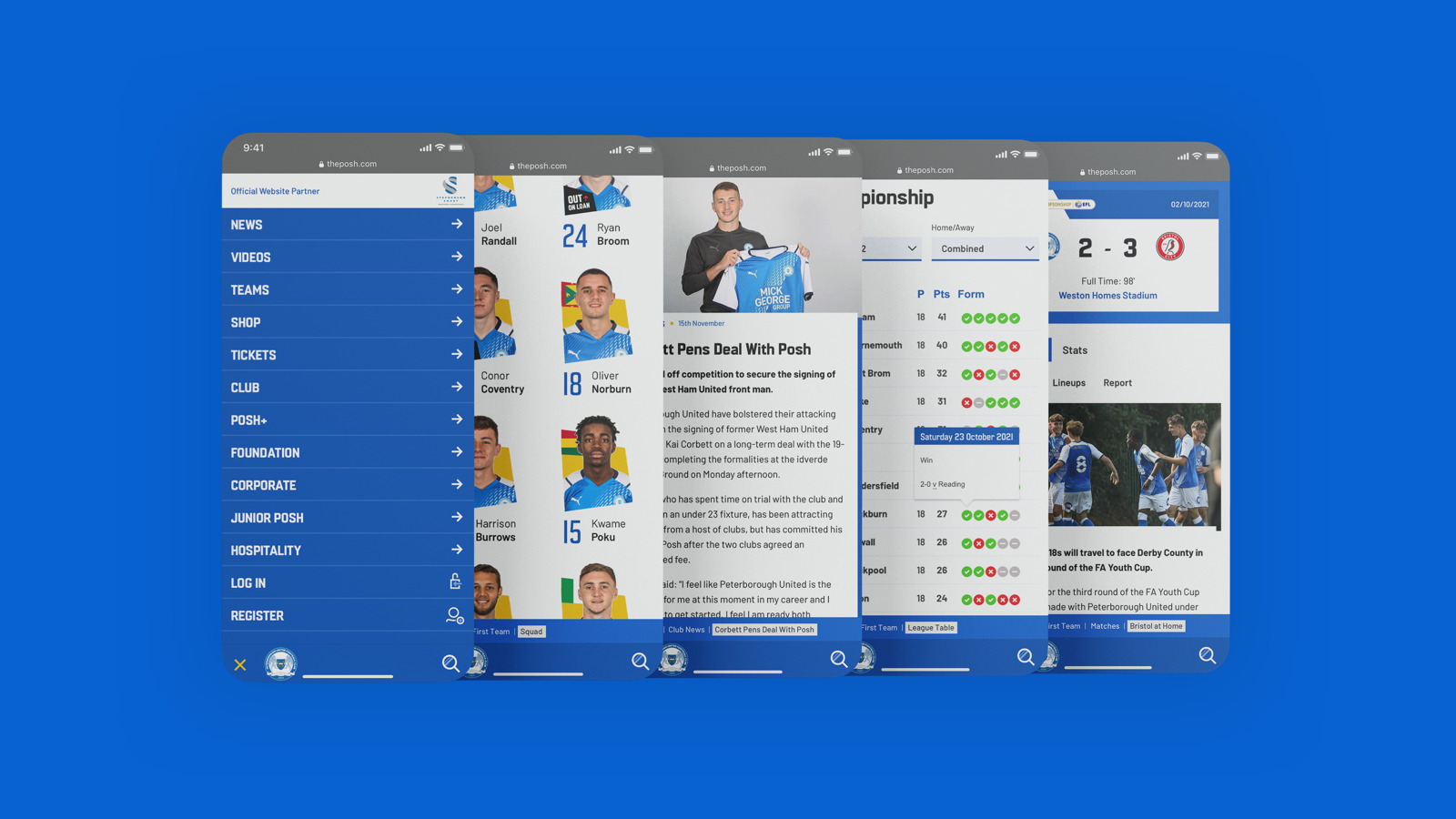 Mobile-optimised for the best experience on the go, for all device sizes, allowing easy discovery of all the Posh's content.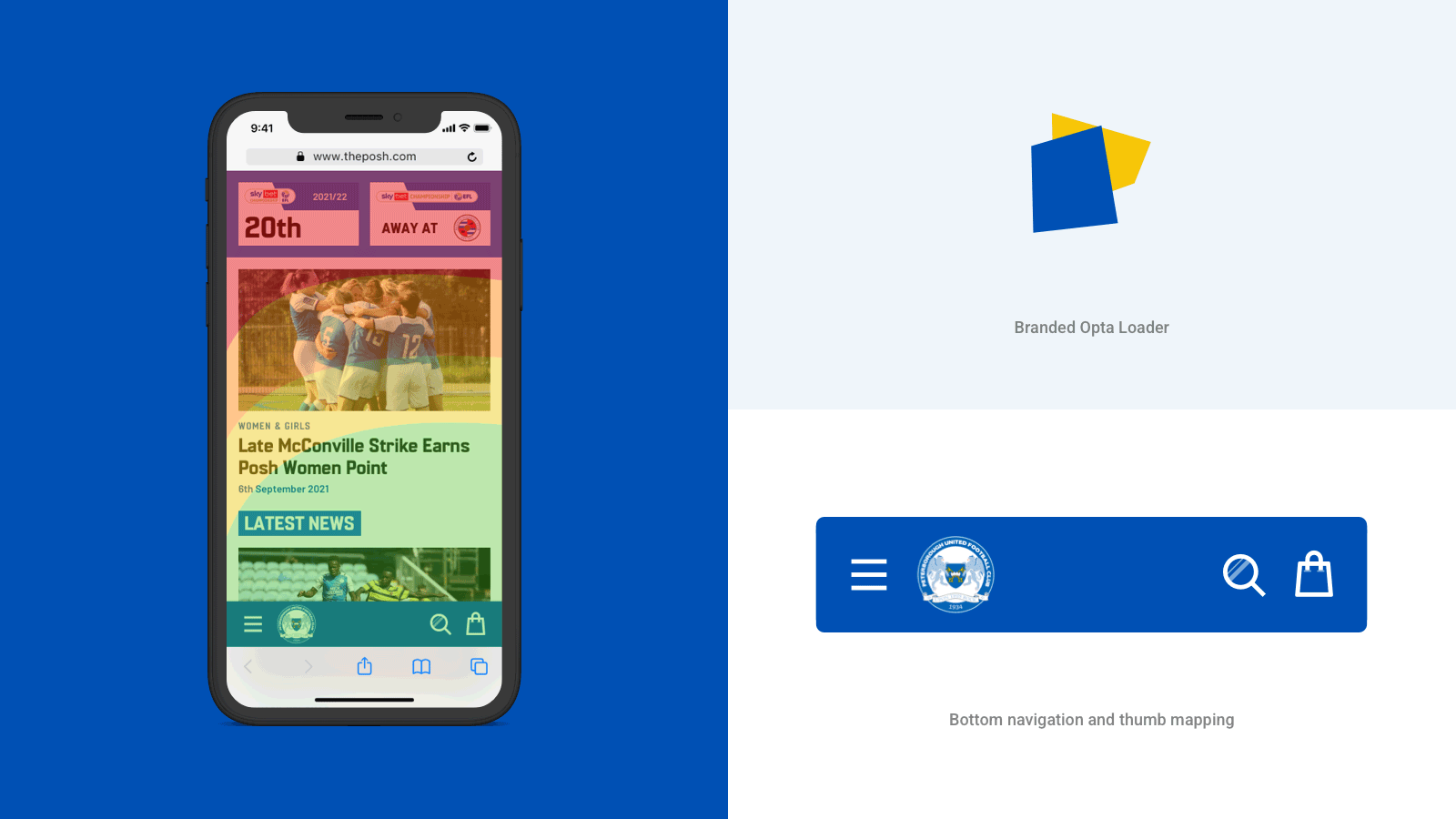 Primary navigation positioning breaks with tradition on the mobile website to allow for easier access when holding a mobile phone.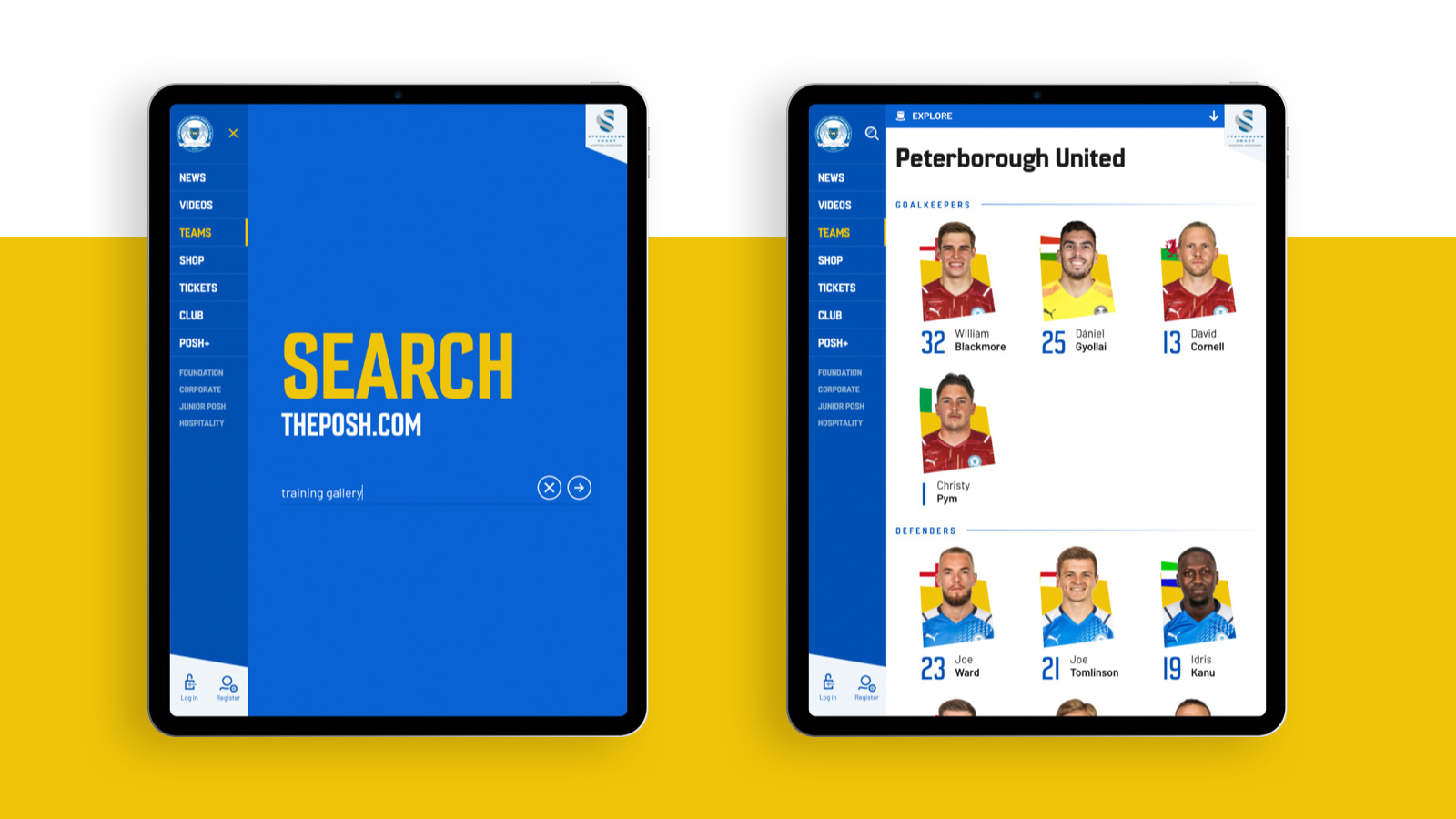 Easy to use search, showcasing carefully selected typography and colour choices that run throughout the site. Team listings now include players' nationality for that extra info to add to a faithful fan's knowledge.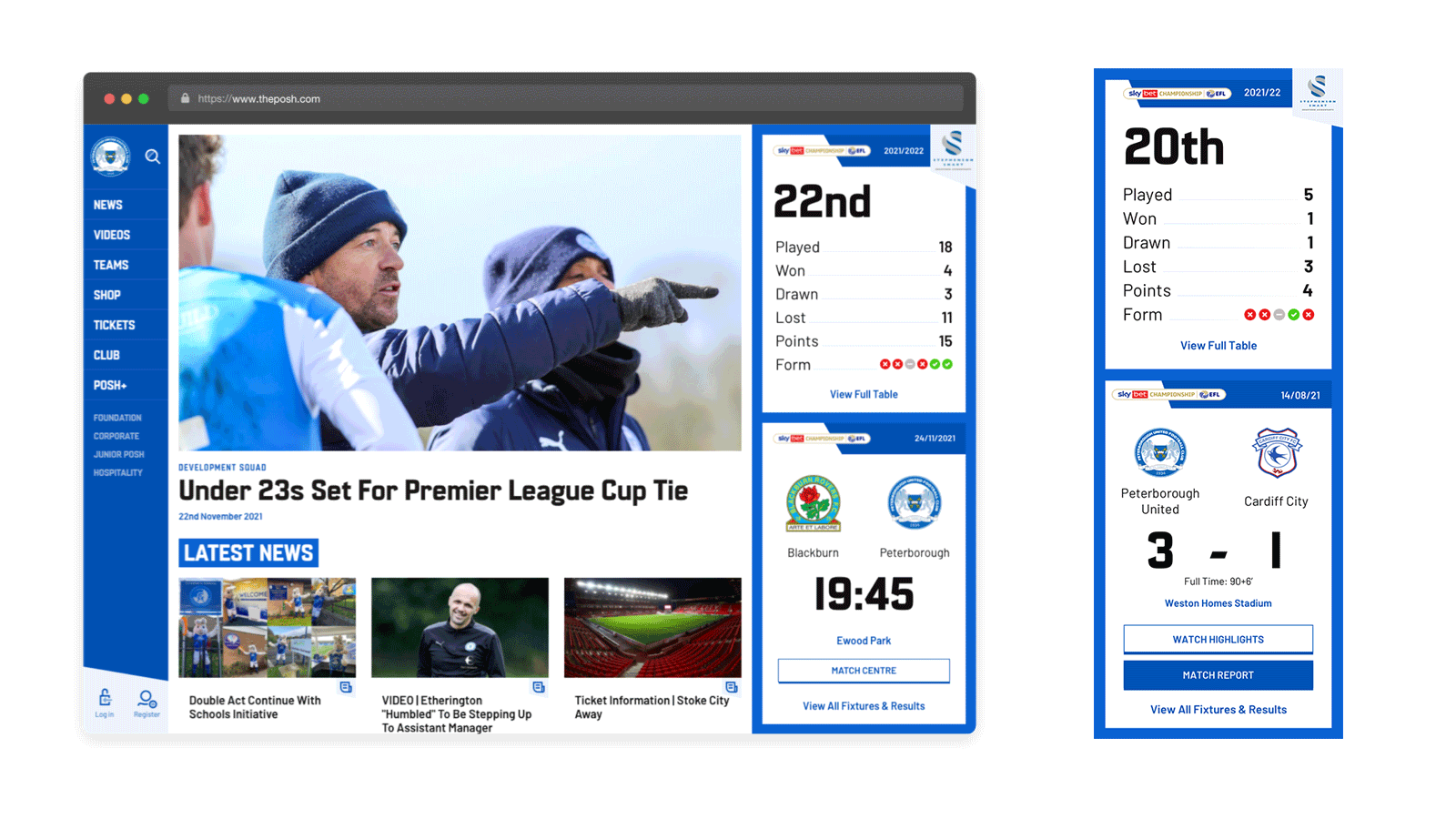 The homepage dynamically adjusts to your browser height with a graceful fallback solution, keeping important information most visible, with instant access to the league table, fixtures and results.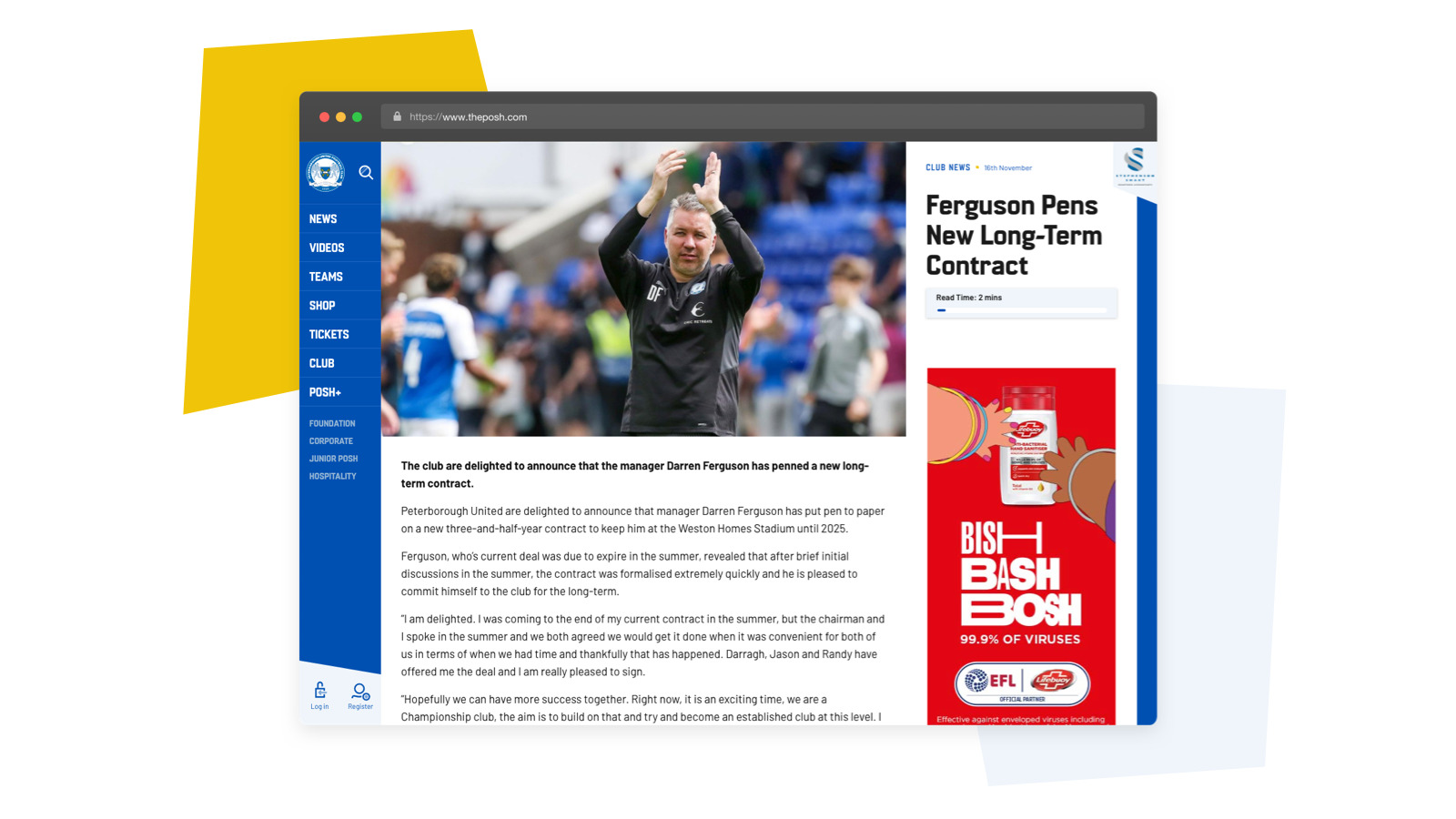 News articles feature a progress bar with estimated read time and sticky article titles make the consumption of Posh content easy and engaging.
An Affordable Solution
Clubcast is a framework that allows sports organisations to deliver customised digital experiences to their fans (through websites, apps, wearables, voice, etc.) that are all managed in one place and can be paid for on a monthly basis, with no upfront fees.
Profitable opportunities
With more digital connections with fans, the possibilities for ticket sales, merchandise, hospitality and memberships is wide open. Taking control of your club's website and app enables you to take advantage of the many sponsorship opportunities there are for partners across the site content that you control.
Data insights
The more you connect with your fans, the more you learn about them and the more you can personalise their experience. Target promotions, develop engagement, and keep your fans coming back again and again.
Looking for better engagement and bigger returns?
Get in touch to see how we can help you to reach your audience and drive compelling new revenue.
Let's talk