Best in Class: Sports Fan Engagement
A few things to think about when considering how you approach fan engagement and a round up of some clubs and events that are successfully engaging with their fans.
Don't call sports fans consumers, or worse still, customers (certainly not West Ham football fans at any rate)…but do remember that treating them as valuable guests interacting with your brand can go a long way. Something that many sports brands take for granted is the automatic loyalty afforded by a passion for a club or team. There is an emotional connection for many fans ('fanatics' in the truest sense of the word) who are so connected to the sport, club, team or competitor that they follow.
Because of this, it is easy to forget the value in engaging with fans. Current digital technologies that enable us to connect better with supporters are driven chiefly by the ubiquitous presence of mobile devices in almost every sports fan's life. Mobile technology has opened up new possibilities for the way fans interact with clubs and brought so much data to our fingertips. Sports clubs have long understood the value of data to analyse their team's performance and that of their competitors – we were captivated recently by Olympic Gold medalists Laura Trott and Jason Kenny discussing how their teams were collecting data before they even knew what to do with it, but they knew they would need it. With just a little thought put into how we manage interactions with fans, clubs can begin to gather insightful data and better understand their supporters' preferences and behaviours.
Why, therefore, do we often barely even acknowledge the support of sports fans here in Europe? I say in Europe because it is well known that fan engagement in North America is in a different league entirely. That's not to say that what works there will work here – there are cultural differences and sport is much more of an entertainment and a day out than it is here. However, offering something more to, for example, those staunch football supporters who have been drawn to a less-than-shiny stadium by some force driven by where they were born more than a desire to be entertained, might not be a bad thing if it engages them more with their club.
360
°

fan engagement

Based on a matrix devised by sports marketers and consultants, Fowler and Wilson, the diagram below highlights the need to consider fan engagement from 4 key angles. Fan engagement needs to be carefully managed both on- and off-site and on match days and non-match days: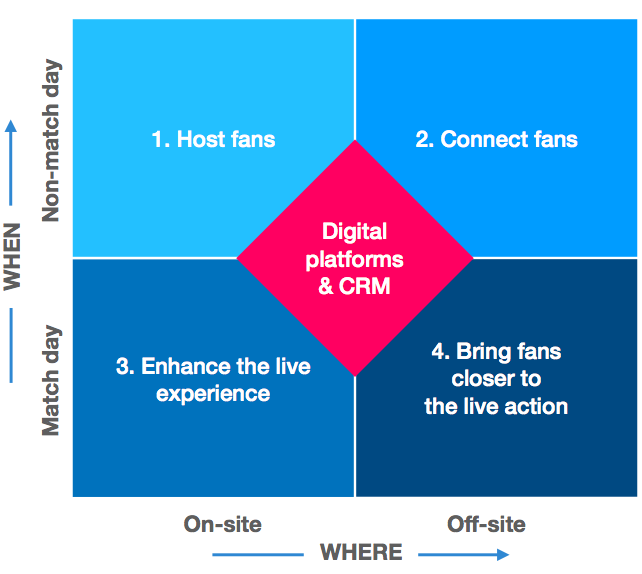 Graphic adapted from Fowler and Wilson, 2016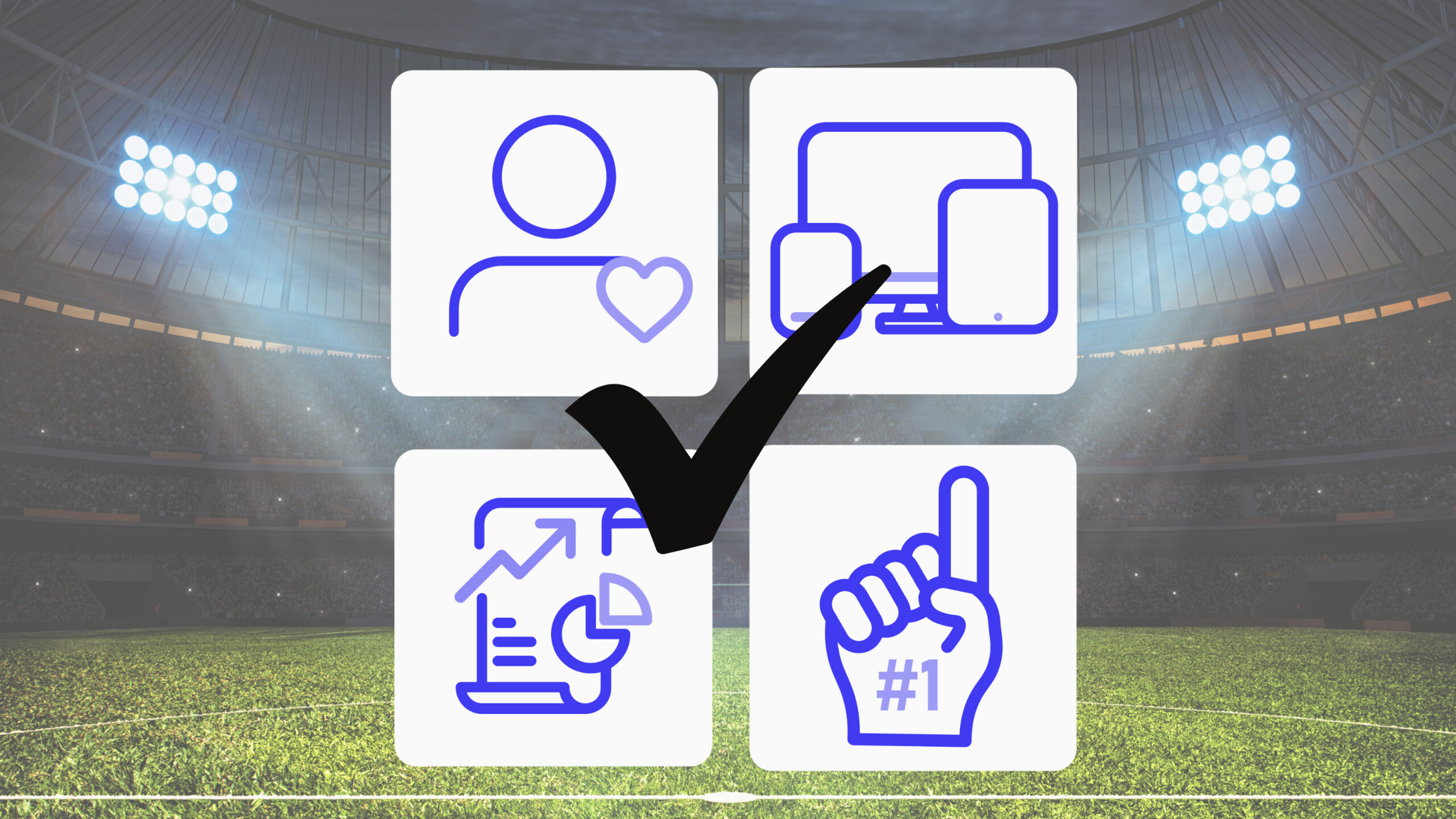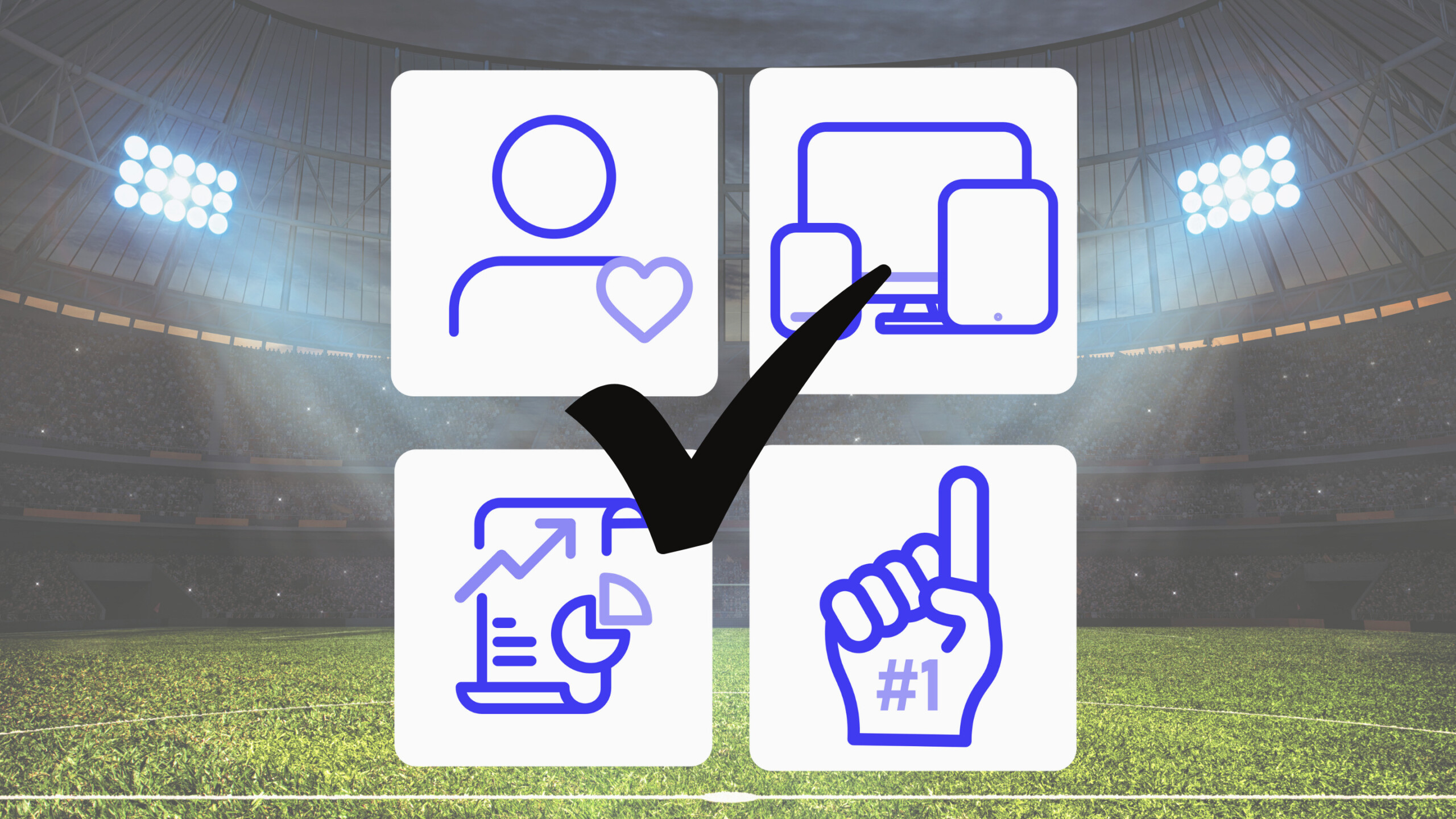 Free Fan Engagement Audit
Request a free digital fan engagement check up and get started with how to better connect with your fans
Request Free Audit
Every fan engagement touchpoint represents an opportunity to collect data. Collecting data is the first step, followed by understanding and using the data. Fortunately we now have so many machine learning tools at our disposal that it no longer requires a data specialist to spend hours analysing data, as an algorithm can do this in seconds, with a little careful thought to the output you require.
Data is an essential consideration for successful fan engagement but it's not just about data and it's not just about social media. Below, we've highlighted a few examples of clubs doing some great work with fan engagement, on the field, off the field and on match days and non-match days.
11 examples of clubs and events winning at fan engagement:
(The examples below have since been supplemented with more recent examples here. However we still think these examples are worth a few minutes to consider as they are really rather good!)
The Open (golf): Ordering food from your seat – 
•
Powered by Masterpass from Mastercard, the Qkr app is enabling spectators at this July's Open golf championship to order and pay for food from their mobile devices and have the food delivered to them in their seat, meaning they don't need to miss a moment of the action.
Minnesota Vikings (NFL): VR sports museum – 
•
•
The U.S. Bank stadium is home to an incredible interactive experience for fans to delve into before and after games at the stadium. The old museum has been upgraded to incorporate interactive and virtual reality (VR) elements across its 10,000 square feet. This now enables fans to see how their running and jumping skills compare with those of their heroes and to catch passes whilst wearing the VR headset.
Real Madrid (football): Fan app – 
•
•
•
Whether you are at the Santiago Bernabéu Stadium or on another continent entirely, the Real Madrid fan app has something for you. On non-match days you can purchase merchandise or delve into stats and there is a personalised element offering deals tailored to the user.
Benfica (football): Emirates "safety video" – 
•
•
This example is all about making the match day an experience. In this case, it sees the sponsors teaming (so sorry, almost unavoidable pun) with clubs. The experience created in the stadium was then an incredibly likeable and shareable thing – the video captures the reactions of the fans beautifully…they were engaged with it!
It also happens to have over 3 million views on YouTube
Tampa Bay Lightning (hockey): "Smart jersey" – 
•
6 years ago, this hockey team made a move that is still worth highlighting as it is a perfect example of the interaction with fans that benefits both parties. The club embedded an RFID chip into the sleeve of all season ticket holders' jerseys. By wearing their team's jersey to a game, that fan automatically receives a discount in the club store and on all other retail stands. The stadium then becomes flooded with the team colours, which enhances the overall experience on the day and in turn leads to more season ticket sales.
Atlanta Braves (baseball): Creating memories – 
•
•
"Above all, create memories," Brad Meriwether, Director of Consumer Marketing for the Braves advised a recent fan engagement conference (SFEC) in Atlanta. "We create environments for our fans to share, and if it's memorable, it's shareable." As the team prepared to bid a fond farewell to their home pitch, Turner Field, the Braves players took to the field one last time, to take selfies with their loyal fans. This was a unique experience for the fans and set up to be eminently shareable.
Manchester City (football): High-speed wireless internet – 
•
If you want your fans to interact with social media at a game, you need to make sure that they can. The Ethihad stadium has high speed wireless internet access, enabling fans to share their experience on social media, during the games. This is something that more grounds, such as Celtic Park, are now picking up on.
Tour de France (cycling): Data predictions – 
•
•
Until a few years ago, the only way to find out the real-time information from this iconic race was from a chalkboard carried by a passenger on a motorbike travelling just ahead of the riders. Dimension Data, one of the team sponsors, has this year enabled data to be relayed to TV viewers within seconds thanks to the GPS and radio frequency chips carried on lightweight sensors attached to each bike. This provides intriguing insights into all aspects of the race, including individual moments such as high-speed collisions.
Notre Dame (college basketball): Emotional content – 
•
•
Connecting with fans on an emotional level can be very powerful. The Notre Dame college basketball team last year set up a re-union for one of their players with his brother who had been serving in the armed forces overseas. The player thought his brother was watching via video but, as he and the crowd then learnt, his brother had made it to the game. The reunion was captured on 6 cameras covering all angles and edited within less than an hour so that they could share it on social media quickly while the mood was still euphoric.
https://twitter.com/NDmbb/status/811039990276911106
AS Roma (football): Fan-designed website – 
•
•
The European football club's new website content is based on suggestions from fans of what they want after they were asked and their responses listened to. As a result, the club has a website that it already knows caters for some of its fans requirements and is more likely to see increased engagement with the site and its income-generating potential.
ECB (cricket): Fan app – 
•
•
•
Ok so we know this one more than most as our talented team here at the Other Media studio are behind this app. The reason we felt it worthy of a mention is the move to integrate video clips into the in-play score updates. For those watching from a TV, replays are something that catch your attention when you've likely got a second screen open. When your app is that second screen, you want to know everything about what happened in that moment. Well here you can.
What all of these examples have in common is that they are offering something of value to the fan, the supporter, the spectator and involving them deeper in the sport, the event, the moment. This, in turn, provides exposure, and/or data, for the club.
What should you be doing to engage fans?
You need to be looking at the four areas that we have identified, and thinking about how you are interacting with fans at and away from the sporting venue and on match/event days and non-match/event days alike. And then…
Make experiences shareable to maximise social media impact
Ensure the means to share – be that apps that connect easily with social media or providing a fast, free internet connection
Listen to your fans
Acknowledge, thank and reward fans
Collaborate with your partners, such as sponsors, ancillary service providers.
Data, data, data. Gather it and use it to tailor what you offer to your fans' needs.
A better understanding of a consumer of a brand is powerful in shaping future interactions with that consumer. What many retail brands are starting to do very well is to use data to understand customers' behaviours and tailor offers to them to incentivise them to make further purchases. Targeted offers can really help to build brand loyalty and is a thank you to a consumer for their custom. Sports clubs and events can learn from this and apply some of the same logic to understanding and better engaging their supporters.
Social media is still going to be at the heart of much of the fan experience and must not be neglected. Through the sharing of moments that the fan in the stadium has really connected with, the club can bring some of the atmosphere to the fan who is following remotely.
By building experiences around the match days and away from the stadia, fans really start to feel part of something.
20 years of understanding our sports clients has led to the delivery of groundbreaking digital projects. From award-winning apps to immersive websites with complex data integrations and in-app ticketing, we're as ambitious as our forward-thinking and competitive clients. Get in touch and see how we can help you build digital relationships and deepen fan engagement.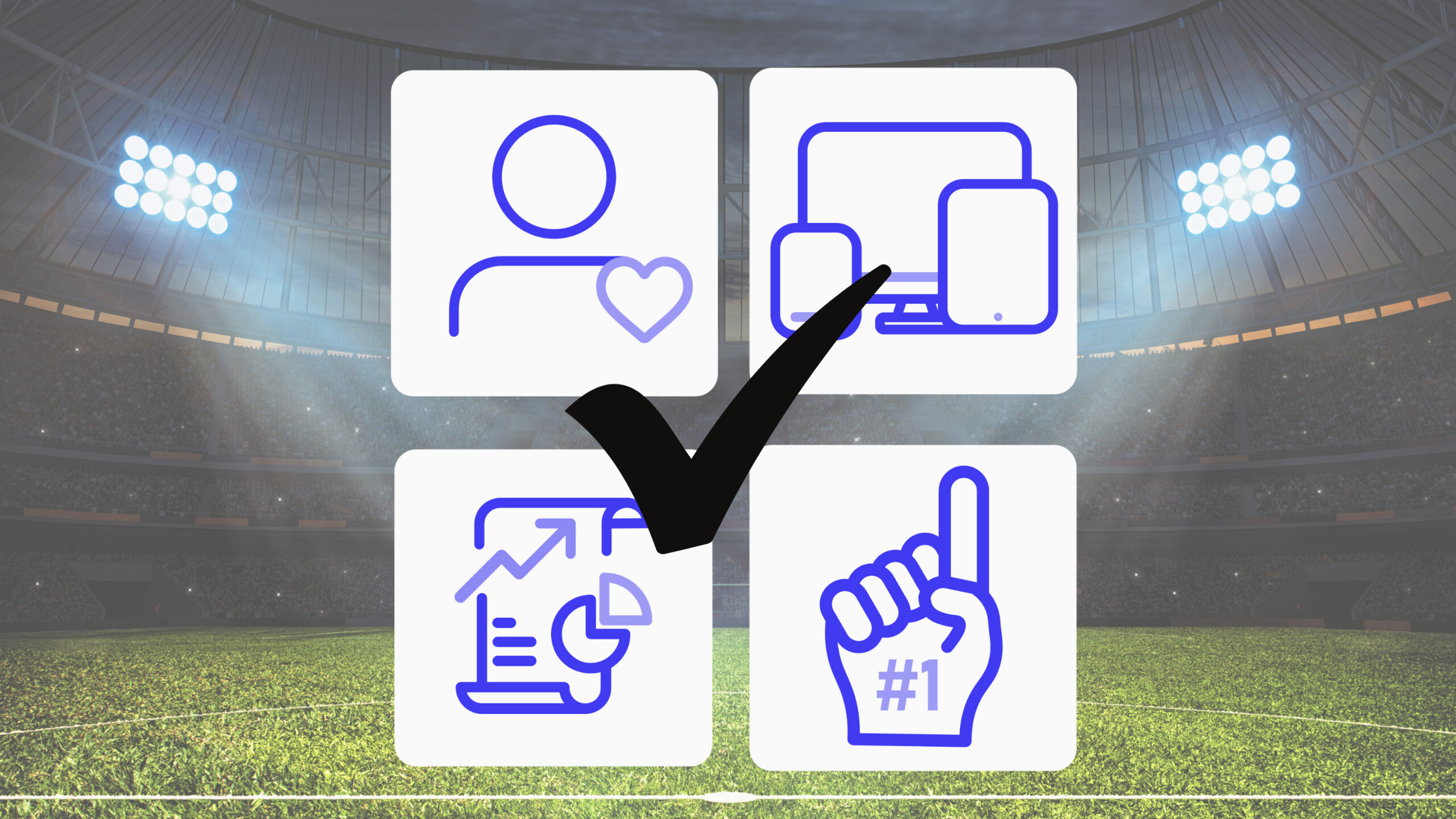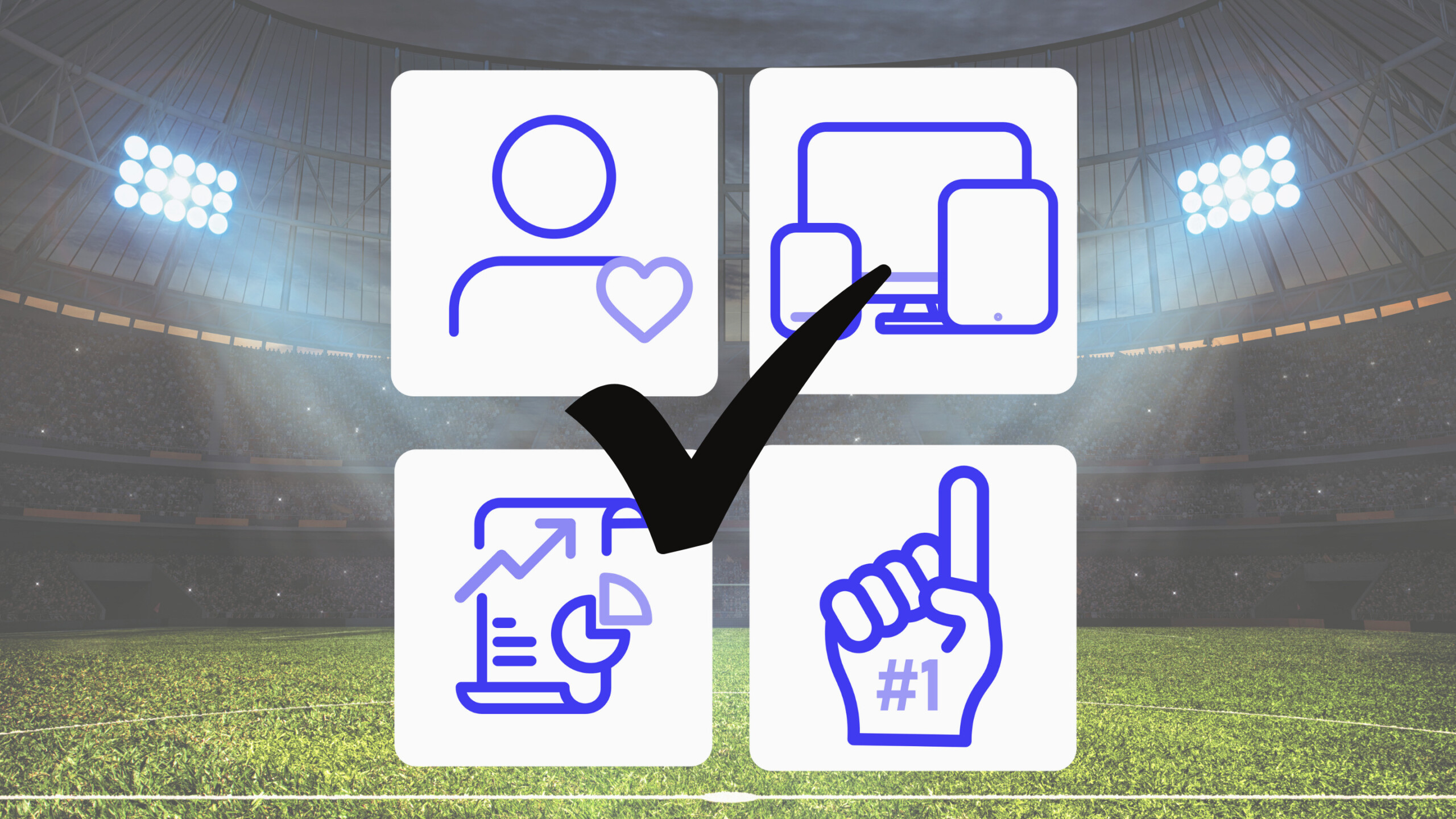 Free Fan Engagement Audit
Don't forget to request your free digital fan engagement check up before you go
Request Free Audit