A Rewarding Night at the Football Business Awards
The Football Business Awards is always a great event but it's even better when you pick up a Silver award for Best Business Serving Football. Oh yes!
It's been tough for football clubs, as well as other sports, to adapt to the challenges that the pandemic has thrown at them. We've always been here to support our clients through the challenges that come their way and this one couldn't have been better suited to how we can help.
Being able to reach fans digitally became not just important but imperative and at Other Media we build beautiful, effective and easy-to-manage digital products that engage audiences and drive revenue. We guide and advise organisations through all aspects of their journey, from defining strategy to brand development and digital delivery.
"Fantastic fan-focused digital innovation which is at the forefront of fan engagement and new revenue opportunities!"
Our Clubcast Fan Experience Platform has been designed to simplify the management of digital products, giving editors control of content, sponsorship, advertising, and fan engagement functionality. This delivers increased efficiency and engagement and drives new revenue.
"Fantastic product and the exact right time. Clubs were in a difficult spot of being able to communicate with their fans, outside of the 90 minutes of a match and several clubs had not invested in their digital infrastructures. Clubcast allowed Clubs to pivot to communicate with their fan base on a daily basis, within reasonable investment parameters. Their list of new clients over a year speaks volumes to the product. Congratulations on a great year. Keep it up!"
We've seen some incredible returns already for some of our established clients, like West Ham United, Swansea City, Cardiff City, and West Bromwich Albion – the latter seeing a 451% ROI.
Newer clients such as Plymouth Argyle are discovering the huge boost in engagement with their digital products and looking forward to reaping the rewards over the coming season and beyond. Peterborough United are one of the latest clubs to sign up with Clubcast and we can't wait for the Posh fans to see what is coming their way soon.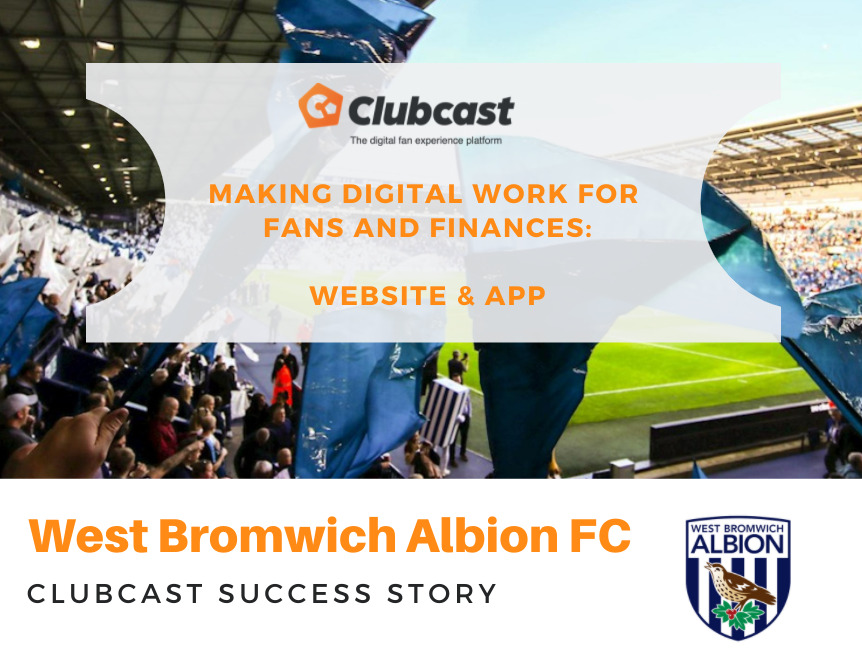 West Bromwich Albion Success Story
See how the Baggies are seeing a 451% ROI through their Clubcast website and app
Download