City Lit
Introduction
City Lit is Europe's largest centre for adult education, with over 30,000 students taking more than 5,000 courses in the daytime, evening and weekend at a purpose-built £21 million centre in Covent Garden. Since 1919 City Lit has offered a wide variety of courses, from History to Health, and Computing to Culture.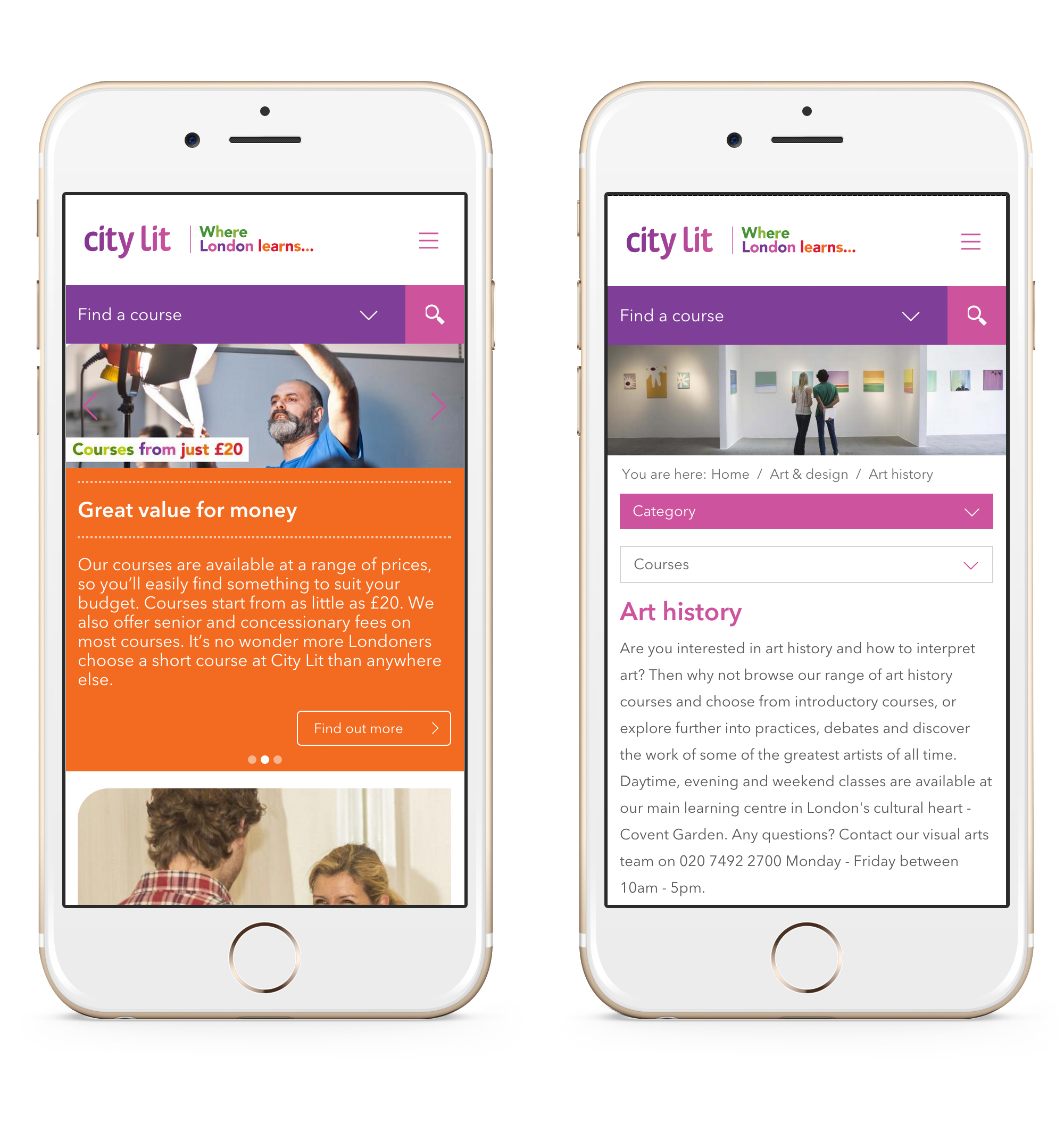 The challenge
City Lit asked us to design a new site to support their new branding and cope with increasing demand. Users needed to be able to find courses more easily, using a variety of search queries. City Lit wanted to help students make their buying decision by providing more information on courses, news and events. The site had to be responsively built to provide a compelling experience to web, mobile and tablet users. It was also key that version control and multiple access levels were available to manage the mass of content being maintained.
What we did
We began by auditing City Lit's existing content and holding story-mapping workshops to identify the key user journeys that the new site would need to support. A solution integrating the e-commerce power of Magento with the content management ability of Drupal would enable City Lit to please both their students and internal staff. An integration with the client's existing Oracle EBS system would ensure continuity for site administrators. A new navigation hierarchy was designed, and tested using OptimalSort crowdsourcing. A bold new design ensured that rich media content was woven throughout the site, with an information architecture enabling users to find material quickly and checkout easily. A mobile-first design approach ensured an excellent experience across all platforms.
As with all projects, we know that the work is never done and part of the continuous optimisation of this website was an investigation into how the checkout process was affecting conversion rates. We used insights gained from investigative work into the customer journey to design A/B tests to see how we could improve conversion.
The results
The new site has received plaudits from students and staff alike. Students love the new design and find it easier to find and book courses, while staff have more control to manage the information supporting their courses and subject areas. Students can buy multiple courses at a time, and their course history is recorded on their personal account. It's possible to find courses by category, the time of day that suits you, or the price. In the first month after launching the new site, traffic on the site had more than doubled against the previous year.
The results of the checkout optimisation saw a significant increase in conversion – by making only changes to one specific part of the process.