Arlo & Jacob
Arlo and Jacob are a UK furniture designer and manufacturer, selling their high-quality, handmade products directly to their customers and they came to us when they were about to launch their brand online.
The Challenge
Having made ambitious plans to launch their initial collection online, Arlo & Jacob were unfortunately let down by their first agency being unable to launch their high-spec website, with complex integrations, on time.
With their confidence low, the team needed an experienced digital partner who had a proven track record of success – and who could guarantee delivery on time. With an 8-week launch deadline, which included the development of the sofa and fabric selector functionality that sits at the heart of the site, and integration with existing stock and ordering systems, this project was only going to work if we worked collaboratively with the Arlo & Jacob team.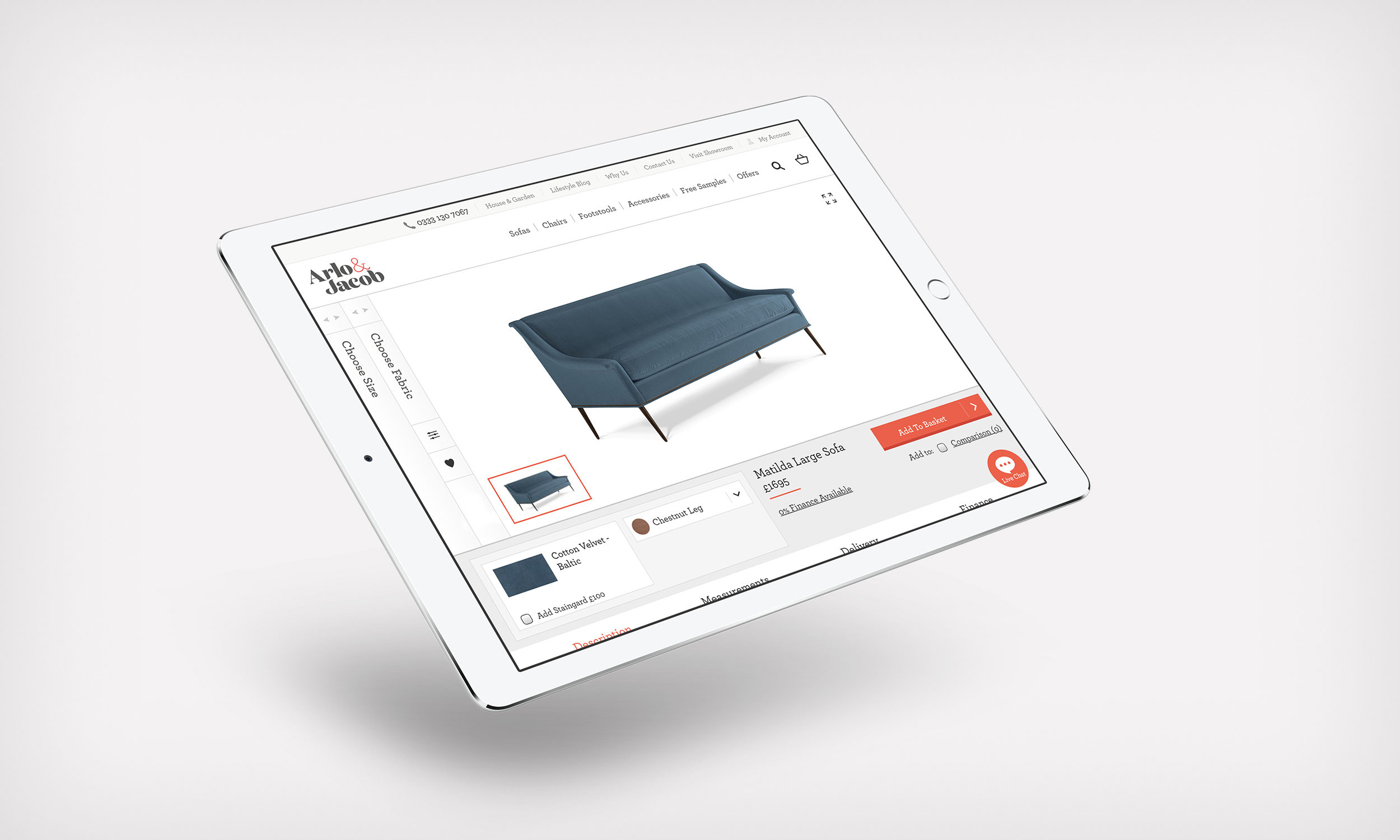 "We are delighted to partner with Other Media who helped us turn around a challenging situation. They delivered an amazing ecommerce site in a very short time, which has helped us to establish the new brand with confidence. Other Media's strategic approach means that we now have a clearer view of future developments, all backed up by their detailed knowledge of our business and outstanding expertise in the world of digital."
Our Solution
Immediately we carried out a series of workshop sessions with the Arlo & Jacob team where we streamlined and rationalised the complex functionality of the previous site, concentrating on the key user journeys involved in selecting and purchasing a new sofa.
Built using the robust Magento Enterprise platform, we launched Arlo & Jacob with an ecommerce platform that showcases the beautiful products and enables all the complex integrations that provide a high-end customer experience, with features including:
Integration with factory production and delivery status; dotmailer for email marketing; Fresh Relevance for personalisation
Responsive design
Comprehensive product information – product description, measurements, delivery details (including selection-specific lead times), feefo reviews, finance information
Prominent free sample ordering for optimal conversion
ReactJS Furniture Configurator to bring the showroom on-screen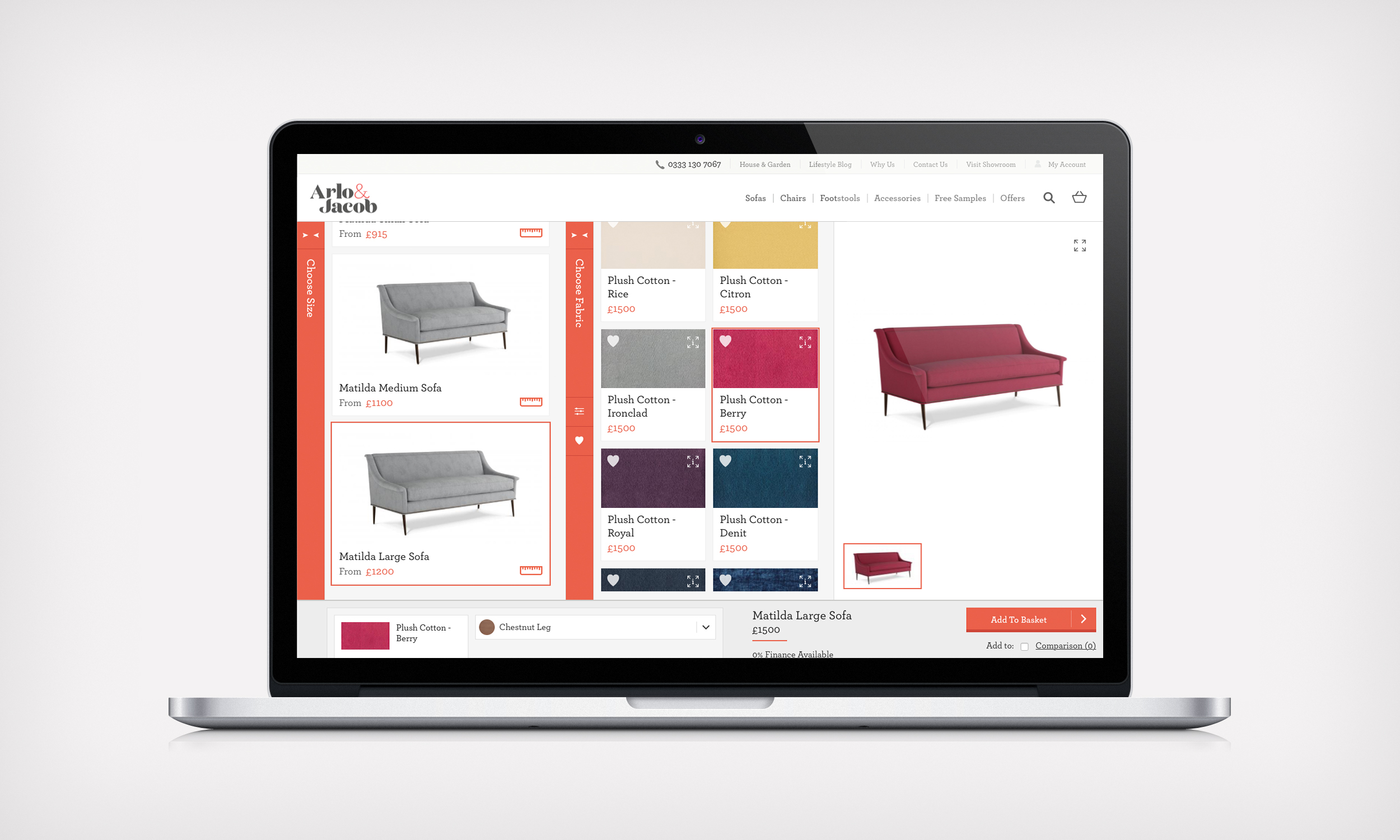 Furniture Configurator
Showcasing the furniture at its beautiful best – customers can choose a style of sofa and configure the size, colour, fabric and foot colour, all the time seeing an instantly-updating image of their chosen product.
Each choice can be changed infinite times on the same page, always instantly displaying a true-to-life image of your chosen product that can be viewed in 360 degrees, zoom and full screen. We have transformed what can often be a confusing, multi-page user experience into a fast, simple and elegant set of options for ultimate customer confidence.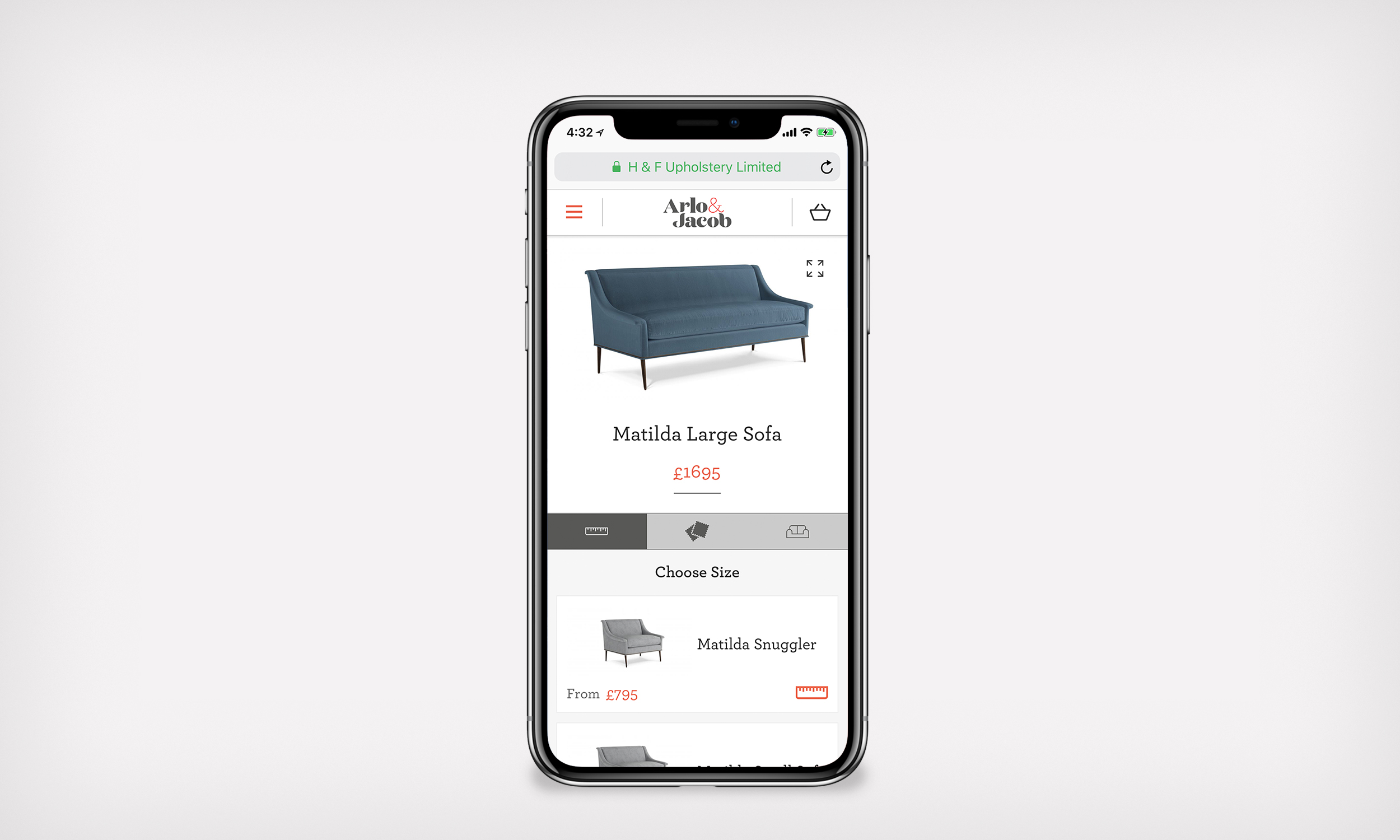 Responsive Design
A mobile-first approach means a website that works as you'd expect a high-performance version of anything to work – when and where your customer demands it.
Only one code-base needs to be maintained and your website is ready for screens and devices that haven't even been conceived of yet.
We applied the same Agile-based approach to this project as we do to all of our work and in this instance the merits of the methodology were clear as client and agency worked incredibly closely together. With the Arlo & Jacob team often working in our office, we were all able to make decisions quickly and to constantly re-assess priorities to ensure a smooth workflow in this tightest of schedules.
(we don't always have our clients move in with us, but we love it when they do…our door really is always open)