Why Does a Football Club Need an App?
Several years ago, the Football League recognised that embracing digital solutions for effective engagement with fans was essential. To this end, Other Media developed an app for the Football League for clubs to offer to fans to enhance the experience offered by their websites.
We have come a long way since then and forward-thinking clubs are evolving and so is their digital strategy. Moving away from one-size-fits-all websites and apps is a key element of this strategy. Successful digital marketing in sport is heavily dependent on the understanding of how a fan is no ordinary customer and has a loyalty that must be nurtured and not taken for granted.
Own Your Club's Content
Clubs are now recognising that they can, and must, own the content that they produce if they are to offer fans what they want and need.
Taking ownership of content by a club is the first step, followed by producing the right content. To really provide a truly satisfying offering to a fan, the third step is to make it accessible. What really sets a progressive club apart from the rest of the field is a truly engaging experience that keeps up with fans wherever they are, providing all the features they yearn to consume about their beloved club.
All a Fan Needs
Why have so many fans chosen to engage with their club in this way? Quite simply, the app gives them what they need, when and how they need it. And for a sports fan, it really is about need over want.
What they need is live audio match commentary, team news and other scores; live streamed press conferences; push notifications for match information, such as line ups, goals and the result. As it happens. Live. Without delay.
Up-to-the-minute stats, news and information are just the tip of the iceberg…
Any Time, Anywhere
An app shouldn't be thought of as just fulfilling needs away from the stadium. Swansea City's fans were the first football fans in the UK to access match tickets on their phones, through the club's official Swans app, in 2018 and now can access season tickets too. This not only saves on printing but also reduces booking fees and is a more convenient solution for fans who already have their phone in their pocket.
Maybe you want your fans to be able to order food and drinks from their seat? Perhaps they need some help with wayfinding at the stadium?
And how about at the stadium but on non-match days? Using geolocation, it is possible to intelligently notify users who are at the stadium that they can take a stadium tour, or send them a tempting offer for the club shop.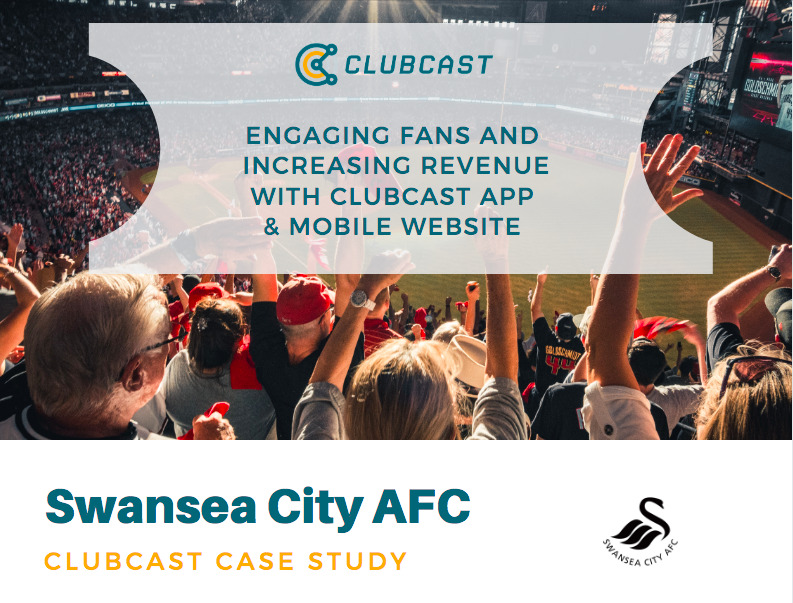 Swansea City AFC Case Study
Take a look at how the Swans are engaging fans and maximising revenue through their Clubcast app and mobile website:
Download
Considered User Experience (UX)
How they need it is in a format that suits their preferred way to consume the information, whether this is an Android or iOS phone or tablet. A club app must be responsive to the screen upon which it is viewed and intuitive to use. Content that is pleasingly presented and able to be navigated with ease will result in engaged users. The app gives fans the information they want in the fastest possible way.
So much work goes into understanding how fans will use an app – both ahead of production and once it is part of your fans' lives – to enable the design to afford a delightful user experience for your fans, keeping them returning to the app again and again.
Seamless Integrations
It is imperative that the app be able to evolve in design and functionality as new technologies and trends in sport emerge. Currently apps need to integrate complex data feeds to ensure consistency with the club's website and to be up-to-date. Audio and video must be woven in seamlessly.
Brand Identity
Let's not forget the branding. A club's app must be instantly recognisable as being part of the club's digital family. The app design must be consistent with this branding.
It is important to take the time to really get under the skin of a club and their fans to ensure that any team's fan will open their app and it will feel comfortingly familiar.
Commercial Opportunities
Getting all of this right will drive fan engagement and also open up commercial opportunities. As well as paid advertising and sponsorship, offering additional, exclusive content to fans who have subscribed to club membership encourages more users to become members of the club and subsequently opens up the paid-for membership options to them.
Opening up another stream of traffic to your clubstore can only be a good thing and there are many clever ways in which you can utilise your app to encourage fans towards the store on match days and non-match days alike.
How about renewing your season ticket through the app that you already use daily? Removing barriers to purchase is a fundamental principle in planning an ecommerce website or app and so enabling renewal this way can be powerful.
Considered Design; Engaged Fans
A well-designed, bespoke app can be the difference between a club supporter sporadically checking in with some content and a fan, that lives and breathes their club, being absolutely tuned in to the every detail of their obsession.
So you now need to consider if you are ready to take control of your sports organisation's digital offering and then get in touch to see how we can help you to develop a co-ordinated approach, incorporating web and mobile with data and content, to bring your fans closer to your club and to each other.