Where does European football's €9.2 billion come from?
Deloitte have just published the 26th edition of the Football Money League¹ , the annual review of the highest revenue-generating football clubs in the world, and we've taken a bit more of a forensic look through the data to see where it's all coming from.
By digging into the revenue split across these top performing clubs we discovered there were some patterns but only three clubs had an increase in revenue in all areas.
Covering the 2021/22 season the report details the income these clubs generate through matchday, broadcast, and commercial revenue, and this is the first edition to include data from the women's teams. This is not an assessment of the financial health of the club, but a strong indicator of those successfully generating solid revenues.
The report ranks the top 30 revenue-generating clubs and examines in more detail the income of the top 20 of these.
Bounceback to Pre-Pandemic Income
The top 20 clubs generated €9.2 billion – a 13% increase over the 2020/21 season and only marginally lower than pre-pandemic levels. Broadcast revenues were lower than 2020/21 where clubs saw boosted income from deferred revenues from during the pandemic. The return of fans saw matchday revenues jump back up and there was also an overall increase in commercial revenues.
The overall revenue split, between matchday, broadcast, and commercial income, is now back in line with pre-pandemic levels but there is a wide range of variation between individual clubs.

The Ever-Dominant Premier League
More than half (11) of the top 20 spots are taken by Premier League teams, and 16 of the league's 20 clubs feature in the top 30. Real Madrid held strong in 2nd place and Barcelona (who, prior to the pandemic, regularly occupied one of the top two spots) have slipped to 7th place with neither club having managed to recover to pre-pandemic levels of income.
Tim Bridge, Head of Deloitte's Sports Business Group, believes that all 20 Premier League clubs could show up in the top 30 soon. A warning to the rest of European football? This is a league still working hard to grow and engage a global audience.
Revenue Split: What Can Clubs Control?
We've taken a deeper look at the numbers to home in on the split of the overall revenue for each club in the top 20 and noticed some things you'd expect and some less obvious findings.
Matchday
Every team had a huge increase in matchday revenue with the average increase being 93% over the previous season (with only Juventus being an outlier at 75%) This was no surprise after fans returning to stadia of course. We'd hope to see small increases next year for all clubs but they can't take their foot off the gas, fan engagement efforts need to be at the fore of clubs' thinking.
Broadcast
Only 3 teams saw a marginal increase in broadcast revenue. It was to be expected that most clubs' revenues here would fall in their first full season post-pandemic restrictions. The average decrease was 15% with the biggest drop seen by Paris Saint-Germain – with a decrease of 45%.
Broadcast revenues are always a big contributor to overall revenue but are largely out of control of the individual club beyond on-pitch performance (e.g. bringing in additional revenue from European competitions). West Ham saw the largest increase of 5% though this is likely to drop next season if they are no longer competing in Europe.
Commercial
Highly variable across the clubs, commercial revenue saw a respectable average increase of 12%. This was also the median point with half the clubs seeing growth of 12% or less, and half seeing more. Once again West Ham saw the biggest increase here: of an impressive 37%.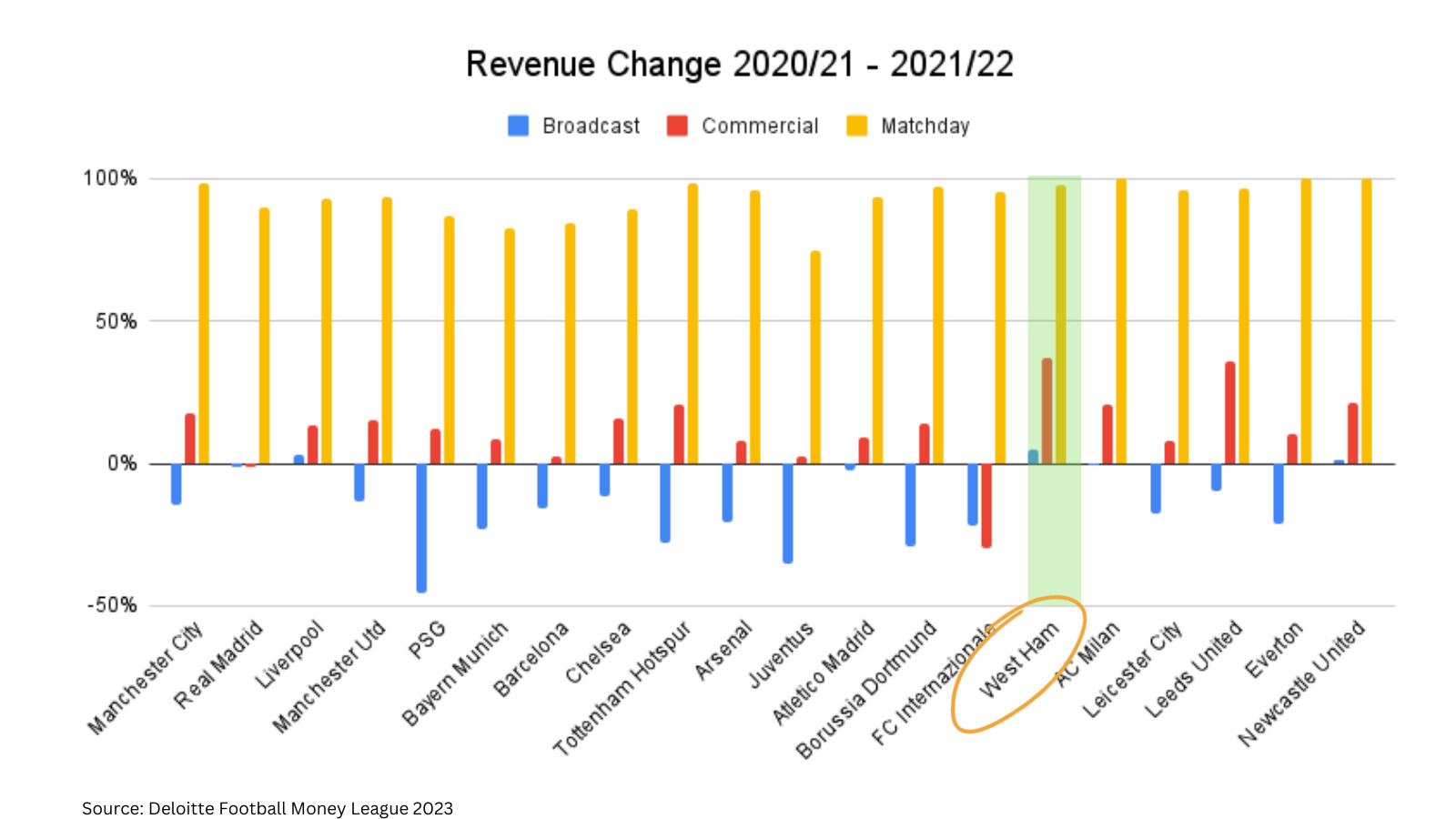 Covering All Bases
For those running the off-pitch operations of these football clubs there is little that can be done, on an individual club level, to affect broadcast income. Matchday incomes will see much smaller changes next year but clubs still can see growth with the right strategy. Commercial revenue has the potential to continue to grow for all clubs. Therefore it's imperative that these businesses focus on ensuring growth in these areas.
Only three clubs have seen growth in all three areas – Liverpool, West Ham United, and Newcastle United. West Ham saw the biggest growth in commercial and overall revenue, generating €85m more than prior to the pandemic.
Digital Remains Vital for Success
Last year's report highlighted that those clubs who had a sound digital strategy and were engaging with fans in this way were already better set to weather the pandemic than those not so digitally prepared.
What we've seen here is clubs like West Ham have leveraged their digital platforms to augment commercial revenue. They have invested efforts in elevating the matchday experience both at the stadium and away from it. As well as continuing to build their social presence, the club have invested in a hugely successful website and apps that allow them to further grow their audience, bolster engagement, and ultimately boost revenues, all whilst giving fans the experience they demand.
The club have taken a no-compromise approach to delivering their digital fan experience and have focused heavily on accessibility. With a richer experience across web and mobile they have seen impressive improvements in audience size (average viewership 185% higher) and engagement (dwell time on mobile up 344%).
So with a solid strategy, expertly executed, it's possible to continue to draw in fans, even when things aren't going to plan on the pitch.
¹ https://www2.deloitte.com/uk/en/pages/sports-business-group/articles/deloitte-football-money-league.html