Wanderers Official App is Cornerstone of New Digital Fan Experience
Mobile phone users are averaging over 4 hours a day using mobile internet and almost 90% of that time is in apps.
As well as being designed specifically for mobile use, apps see far better engagement through push notifications, as well as higher rates of conversion.
So at the heart of the new digital fan experience strategy for Bolton Wanderers sits the Official Wanderers App, connecting the club with fans the world over.
Design with detail
In line with the recently-launched website, the app design has been carefully considered to exude the identity of this iconic football club. Woven into the bold new design are a number of subtle touches, like the Lancashire red rose and the diamond shape of the stadium's floodlights.
We pay so much attention to detail because we want to delight users and, crucially, we want the app to be a hard-working asset for the club. As well as the core tool for communicating with fans a well-executed app is engaging and the perfect place to convert sales through not just tickets, retail, and hospitality, but also through partner sponsored content.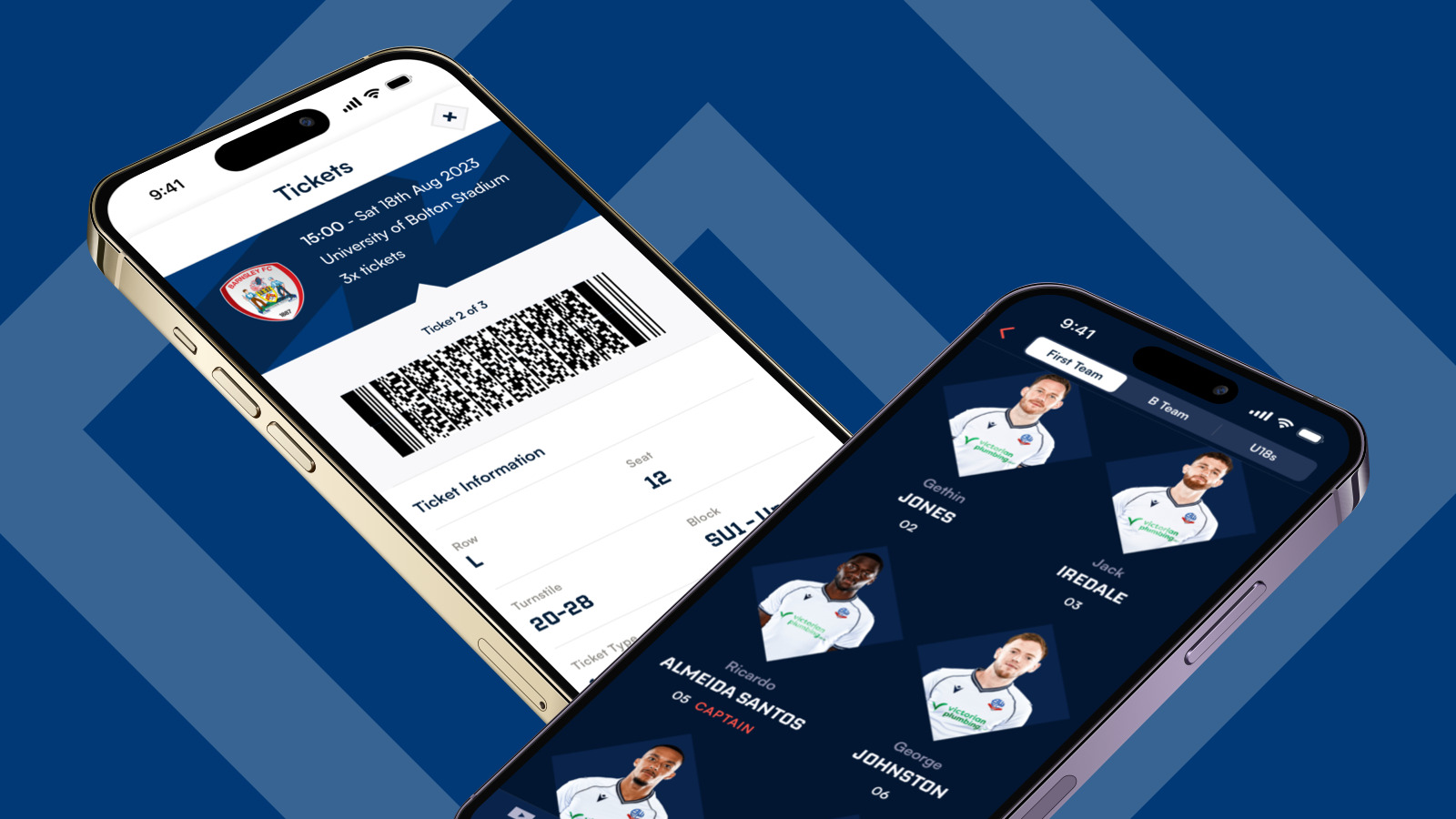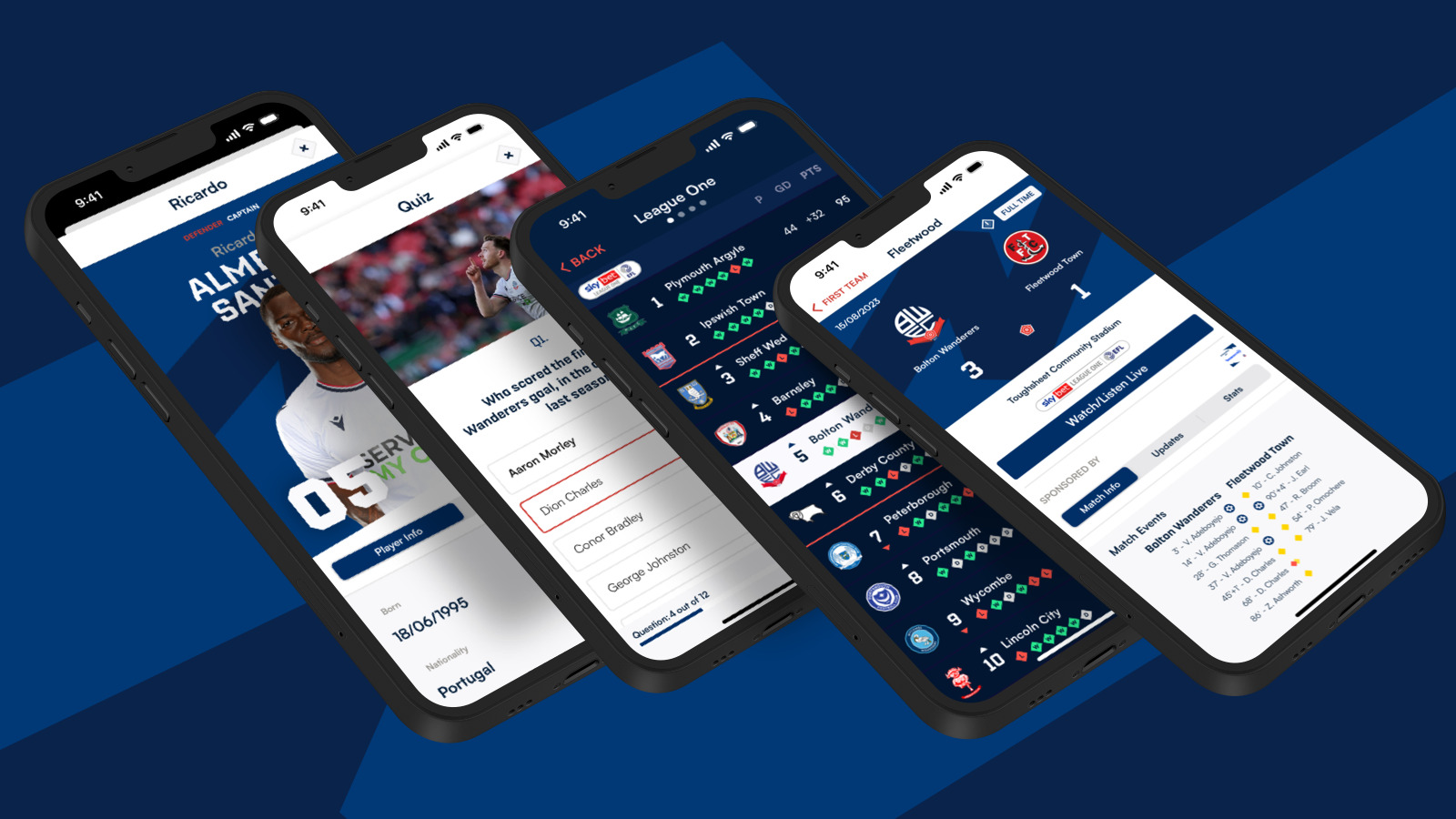 At a glance
iOS widgets really elevate the experience by putting the key information, that a fan chooses, right on their homescreen. This way supporters can see, for example, the latest news at a glance and tap through to read more on the stories that matter to them.
Widgets are the perfect way to alert fans to new content in the app without the need for a push notification for every new story. Push notifications then retain their effectiveness by being used at the right time, for the right reasons.
Power of push
All users can customise the notifications they want to receive. App notifications have an average open rate of 92% – compared to just 23% for email. When combined with audience segmentation this gives the club a powerful tool with which to engage fans.
Interactive features
Apps, that are dipped in and out of regularly, are the ideal place for a little extra interactivity. We have included line-up and score predictors, as well as polls, and quizzes. Fans can test themselves and see how their knowledge and intuition stacks up against their fellow supporters.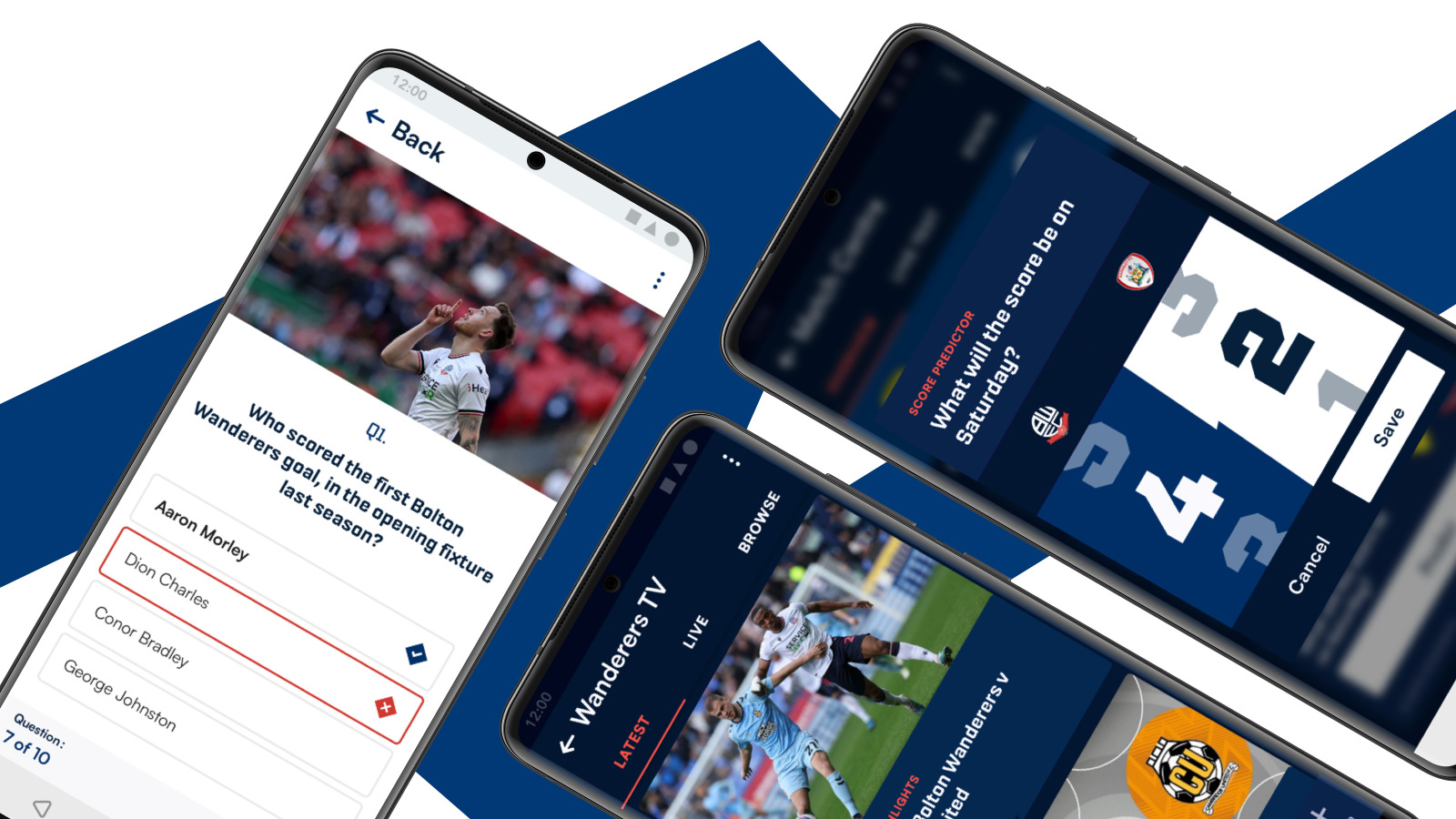 Single sign on (SSO)
Across the website and app fans can log in to one account and access retail, tickets, and Wanderers TV. As well as a seamless experience for the fan this builds valuable data in the Clubcast Data Cloud.
Data Insights
Fan interactions with the app and website fuel data dashboards that give a real-time view of engagement and can be interrogated further to uncover campaign insights. With CRM integration audience segmentation allows for more effective marketing campaigns through targeted push notifications.
Easy to use
A small number of tabs group the key content together for ease of navigation. All the latest news, fixtures, results, league table, and player profiles let fans dig into the information they seek.
The TV tab hosts Wanderers TV with a library of on-demand videos, featuring interviews and highlights, as well as the home of live-streamed games.
Simple to manage
The Clubcast Fan Experience Platform powers both the app and website for Bolton Wanderers. The CMS has been customised for sports clubs and allows editors to create, schedule, and publish content. The built-in SSO solution affords a frictionless experience for fans and a builds the Clubcast Data Cloud to power realtime dashboards and to allow targeted marketing through audience segmentation.
With seamlessly integrated streaming and video, retail, ticketing, and CRM, Clubcast brings together everything the club needs to manage a world class digital fan experience across web and apps.
The bottom line
When designed and executed well apps not only provide an improved fan experience but also, because of how much they are engaged with, open up a wealth of opportunities for partnering with sponsors to drive even more revenue for the club.
Fans are spending longer on their phones than ever, and more time on apps than mobile web, so an app has to be at the core of a club's digital fan experience. Offering so much more, from push notifications to mobile tickets and interactive features, apps make a huge difference to how clubs understand and connect with their fans.
"Bolton Wanderers are truly putting their fans first with the uncompromising design and functionality this new app offers."
Get in touch to find out more about how we can help you invigorate your digital fan experience to delight fans and bring you exceptional return on investment.
Find out more