Ospreys Rugby
Ospreys are a forward-thinking rugby club; a globally recognisable brand with their distinctive mask logo, and they are harnessing the power of digital to connect with their fans.
The challenge
After undertaking some research into the attendance of supporters at the Liberty Stadium, Ospreys Rugby discovered that there was much more they could do to encourage new and return visits to the stadium. The club have set out to make it easier to connect with fans in order to engage with them to provide the experience that they demand.
Our solution
Most rugby clubs have a website, but Ospreys wanted to make theirs work harder for them. They also recognised that a native app, that complimented the website, would further enhance the fan experience, engaging supporters further and providing more opportunities to bring them closer to the club. Therefore we have crafted a responsive website and iOS and Android apps, all powered by one capable CMS: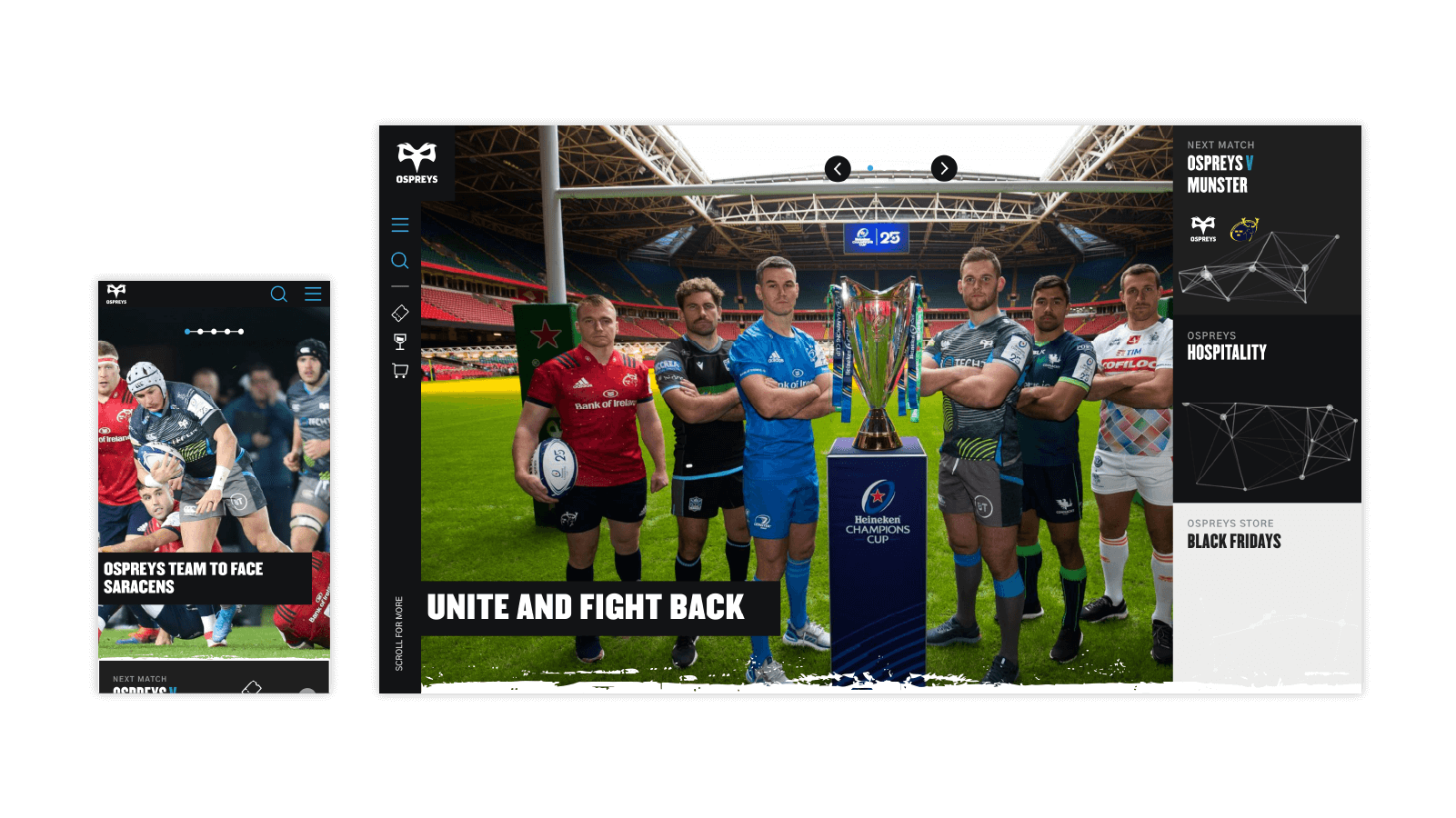 Responsive website
Using Drupal 8, an elegant website was built for the club to deliver all the information they need to their fans – whether on desktop, tablet or mobile.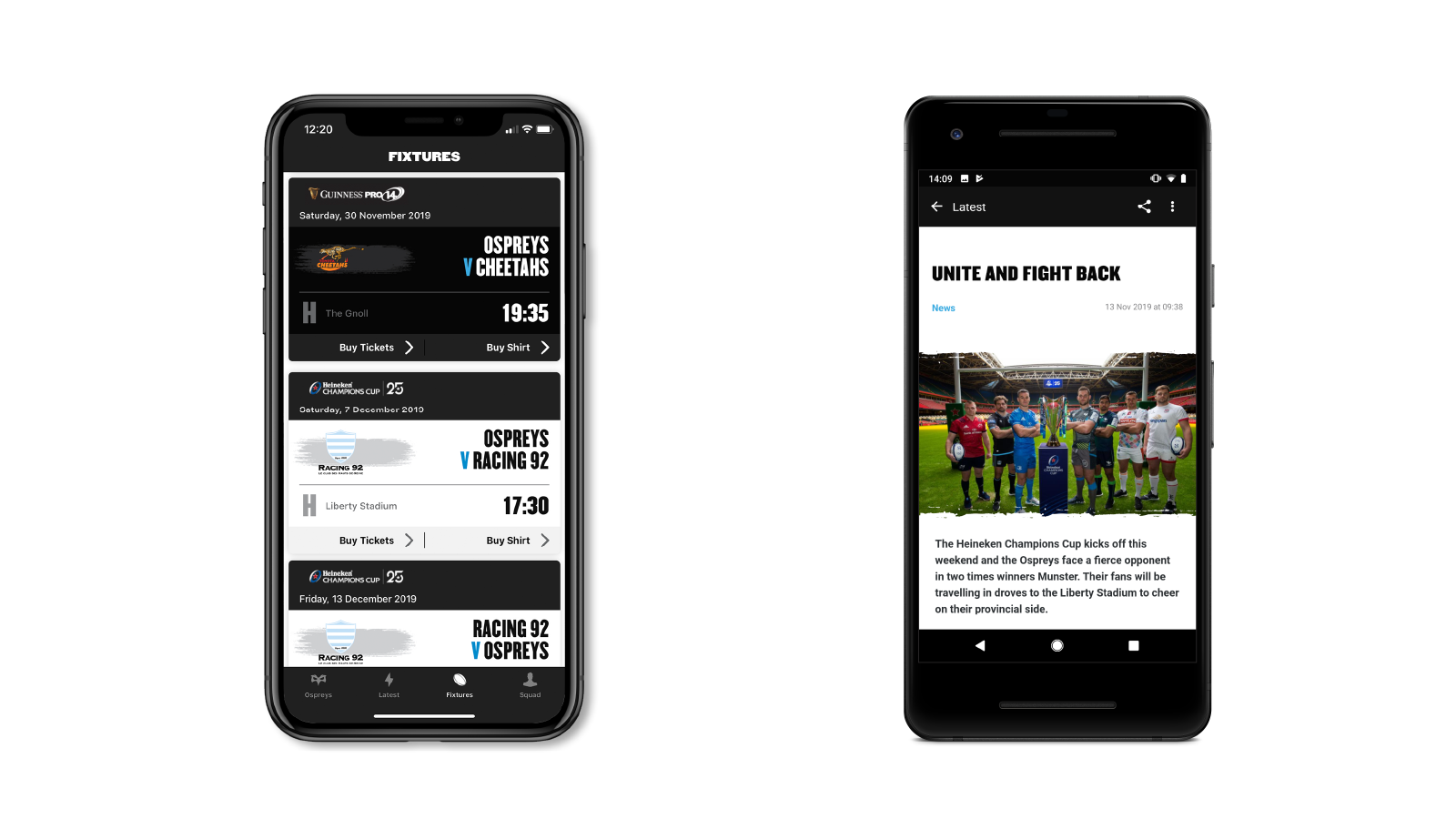 iOS and Android apps
Getting the up-to-the-minute information wherever you are is now easy for an Ospreys fan, with their own personal in-game analysis and stats assistant that is the native app.
Featuring fixtures, results, commentary, news, videos and more.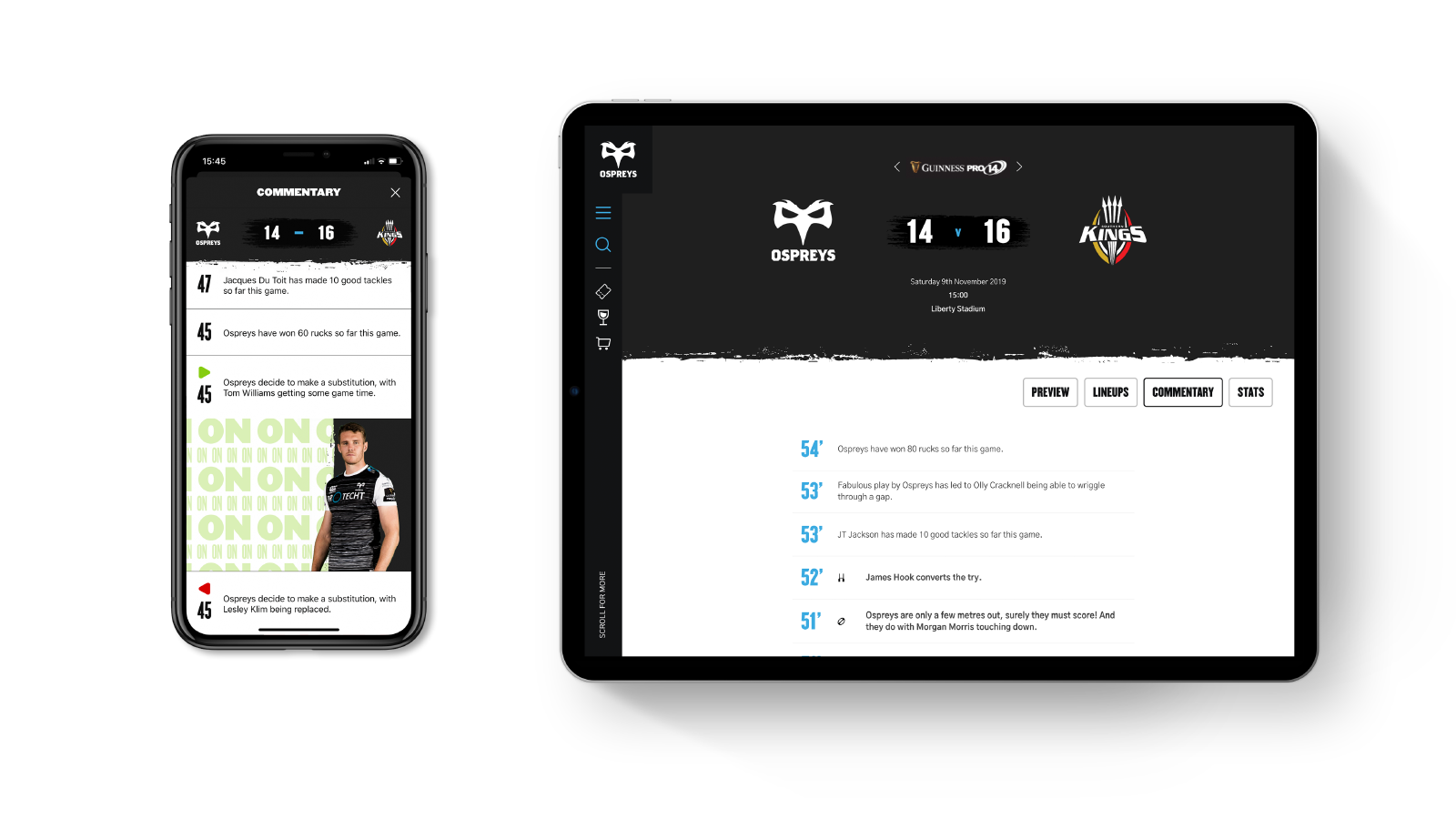 Efficient content management
Built using our Clubcast platform means that content can be easily created, scheduled and managed to both the website and apps, as well as other formats in the future.
Harnessing data
The new website and app enable the club to find out more about the behaviours and preferences of their users which in turn leads to more engaged fans consuming content that they are truly interested in and returning time after time to the app and the stadium.
Relevant content
Fans can rely on the website and apps to be the definitive source of the latest information about their club. The dynamic state of the header section of the website enables it to evolve on a match day to display build up and then match information, linking to the match centre.
The match centre tab in the app brings all the relevant match-day stats and information to the fore.
Opta stats populate the match centre sections of the website and app: stylishly designed with an engaging interface.
Unleashing potential
Ospreys now have the tools at their disposal to grow the fanbase of the club and further connect with the existing fans, bringing them closer to the club and closer to the action.
Download app from Apple App Store