What Can Sports Learn from Theme Parks?
Disney's theme parks are attracting more visitors than any major sports league worldwide…and by quite some margin.
That's what we learnt recently from an article, written by Christian Sylt for Forbes, that looked into attendance figures for theme parks and studied these alongside those for major sporting events.
It got us thinking about why theme parks are so vastly outperforming sporting events and what sport can learn from the giants of Disney and co.
Disney attracting more than double the visitors
The data shows that in 2018 Disney's 14 parks around the world attracted an estimated 157.3 million visitors which is more than double its nearest challenger – Major League Baseball. The MLB's attendance total of 69.6 million is, though, driven by a mighty tally of 2,415 matches which is far more than the number held by the NFL or the NBA.
The Premier League is 15th in the table with 14.5 million visitors in the 2017/18 season. The next sport to make it into the table is the ATP World Tour and Grand Slams in at 18 with a drop of more than half the attendance of the Premier League, with just over 7 million visitors.
We should briefly point out that the numbers exclude sporting events with large free attendance (such as marathons, road cycling) and only include permanent venues or annual events (so a major omission is the football world cup). Also, theme parks are open all year round and most sports have a defined season: a set number of events.
Still, obvious omissions aside, why are theme parks killing it and, more importantly, what do sports clubs, leagues, and events need to learn from this report?
Why such high visitor numbers?
Once you look into it, there are several things that theme parks are doing well, but it essentially boils down to creating an experience.
Intellectual property (IP) rights are a huge factor in this. NBCUniversal holds the rights to the phenomenally successful Harry Potter series of movies and attendance has increased by an average of 32.1% since the wizarding world cast its spell over the parks.
Whilst IP rights might not be the right fit for most sports teams, this really highlights the value in finding the right partnerships and offering experiences. So how do you do that?
What can sports do?
An experience to drive attendance
You are competing with the theme park, and various other experiences, to get your fans to follow your team week in, week out. They won't switch teams, but may follow other sports as well/instead and anything else that takes their attention away from your team is a competitor. You are competing for that leisure time and money being spent. As well as days out, esports are becoming a recognised competitor for traditional sporting events. We are starting to see some sports teams, such as PSG, Manchester City and Wolverhampton Wanderers, creating esports partnerships as they are seeing the value in these alliances.
One crucial way to think about fighting for this attention is to understand the experience economy. To understand that, according to a consumer survey from McKinsey, personal-consumption expenditure on experience-related services (such as visiting theme parks) grew more than 1.5 times faster than overall personal-consumption spending.
We know that social media is accelerating the demand for experiences. An experience that a user enjoys is one that they will like and share on their social accounts, and this in turn encourages more visitors, who then will post about their experience, and so it goes on. You already know this, we know, but it's important to point out in the context of this finding of how theme parks are stealing your attendance share…they are making experiences social media-worthy. The importance of the influence that visitors, or fans, have over each other should not be underestimated. It is as, if not more, important than the relationship between your brand and your audience.
Smart sponsorship
It's big bucks for many of the big leagues and teams that really are as much of a brand as a team. Sponsorship at theme parks, especially at Disney parks, is often very subtle and very much a congruent part of the environment. Sponsorship in sports can be difficult, partly because of the difficulty in offering that aforementioned experience that is then a positive association with that brand for a visitor. However, by understanding the importance of experience, this can shift.
We've written before about NFL and how their Superbowl events in particular are a winning example of the game day experience. Weekly tailgate events also highlight brand activation at the top of its game. With the right sponsors on board, there is no reason why some of the experiential elements of a pre-game event can't be copied in the UK and the rest of Europe.
Sponsors want to be where the high attendances are and so sports need to work with sponsors to create those mutually beneficial experiences that bring people to their ground, or to their digital channels, and get them interacting with the sport and the sponsor.
Data, data, data..and what you do with it
Gathering and utilising data enables you to offer a better experience to a fan and in turn, increase exposure (and more valuable exposure) for brand partners as well as encourage repeat visits to stadia/events for the sports team. Even toilets (yes, toilets) can be a data collection point and used to tailor a fan's experience, such as has been done at NFL tailgates.
Data gathering is something that, once again, Disney do incredibly well. Not only are they gathering oodles of it, but they know how to use it to tailor each visitor's experience to draw them deeper into the experience so that the visitor gets the best experience and the park and its partners and sponsors benefit too. Disney's magic band serves to start the magic for their guest even before they have started their trip. Once in a park, they know what ride a visitor went on and when, what they ate and where and when they ate. They can then make suggestions on how the visitor can get the most out of their visit based on what they have done so far.
Your fans are already at your fingertips
We are not suggesting you try to get a similar band onto your fans' wrists, but there is something that almost all of your fans will already carry with them that you can tap into – their mobile device(s). If you can engage your intended audience on their mobile device, then you can build anticipation before events, keep that going after events, and during the events you have a way to reach your audience away from your venue as well as personalise the experience for the fan who is at the event. For example, you know if they are a season ticket holder, you see what games they go to, you can learn more with loyalty schemes linked to tickets, merchandise and food and beverages. Incentivisation through offers in the app, and redeemed through it, all encourages further interactions and gives you more data.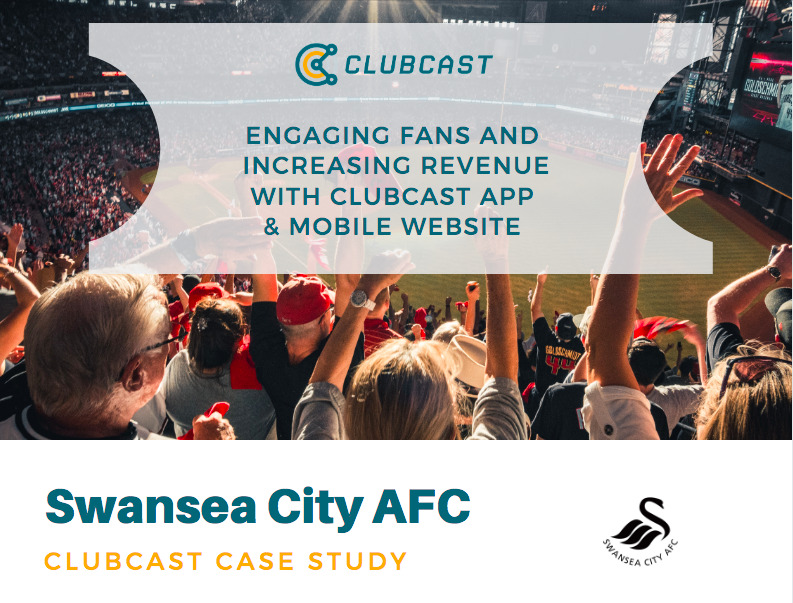 Swansea City AFC Case Study
Take a look at how the Swans are engaging fans and maximising revenue through their Clubcast app and mobile website:
Download
An experience for all
Tapping into the experience economy and making it instagrammable is the holy grail. Tying this all up so that it is attractive for fans, clubs/league/events and sponsors/partners can be tricky, but certainly can be done. Could your club off a multi-ticket with other local attractions – we've seen an interesting partnership between Sydney Zoo and the AFL finalists, GIANTS and are very intrigued to see where this goes. Or perhaps it's about offering entertainment around game time but at your venue – this is something that English rugby league club, Leeds Rhinos, are doing exceedingly well at their newly refurbished stadium. Live music and the ever-popular half time games for junior teams are proving popular with fans of all ages.
The emphasis on families is also important in the allure of the theme parks. They are family days out. Anything sports can do to make their events more family-friendly can only be a good thing. These people are, after all, the future of your sport's following.
Give fans what they want
So, get on board with those who would otherwise take your fans' attention (such as esports, local attractions) and work to make that experience that your fans want and sponsors want to be a part of. Make sure you talk to your fans, and do this regularly. You do know them well but don't make assumptions. Find out what is drawing them towards other activities and find out what they really want from you. Then make sure to act on the feedback you get.
We hope that you are already considering how you can create and tailor an experience that your fans want to be a part of, but any help you need, just ask and we'd love to talk to you about how we can help.