How Can Cycling be More Than Le Tour?
Even those entirely uninterested in cycling will have heard of the Tour de France; road cycling's biggest event that starts tomorrow. Those with a passing interest may also be aware of the Giro d'Italia and La Vuelta a España. You have to be a far more enthusiastic cyclist, though, to be likely to follow many other events; be they local or global.
There is a lack of attention to this problem by all stakeholders in the sport. Organisers, broadcasters, teams and the cyclists themselves are not devoting enough attention to engaging their potential audiences.
Cycling doesn't have the luxury of ready-made fans, being born in a certain location that affords an instant affiliation to a team that lasts a lifetime. There needs, therefore, to be a draw; something that makes you want to know more and brings you closer to the sport.
Organisers often perceive the TV broadcast rights as poor value and at odds with maintaining crowds at the events. Even then, typical TV broadcasting of cycling events is often focused on live coverage of events, demanding that the viewer be ready to watch when the broadcaster demands. There is a real need for footage to be available on mobile devices (live-streaming on owned channels as well as via social platforms), to consume as-it-happens as well as whenever is convenient for the fan – even if that fan is at the event.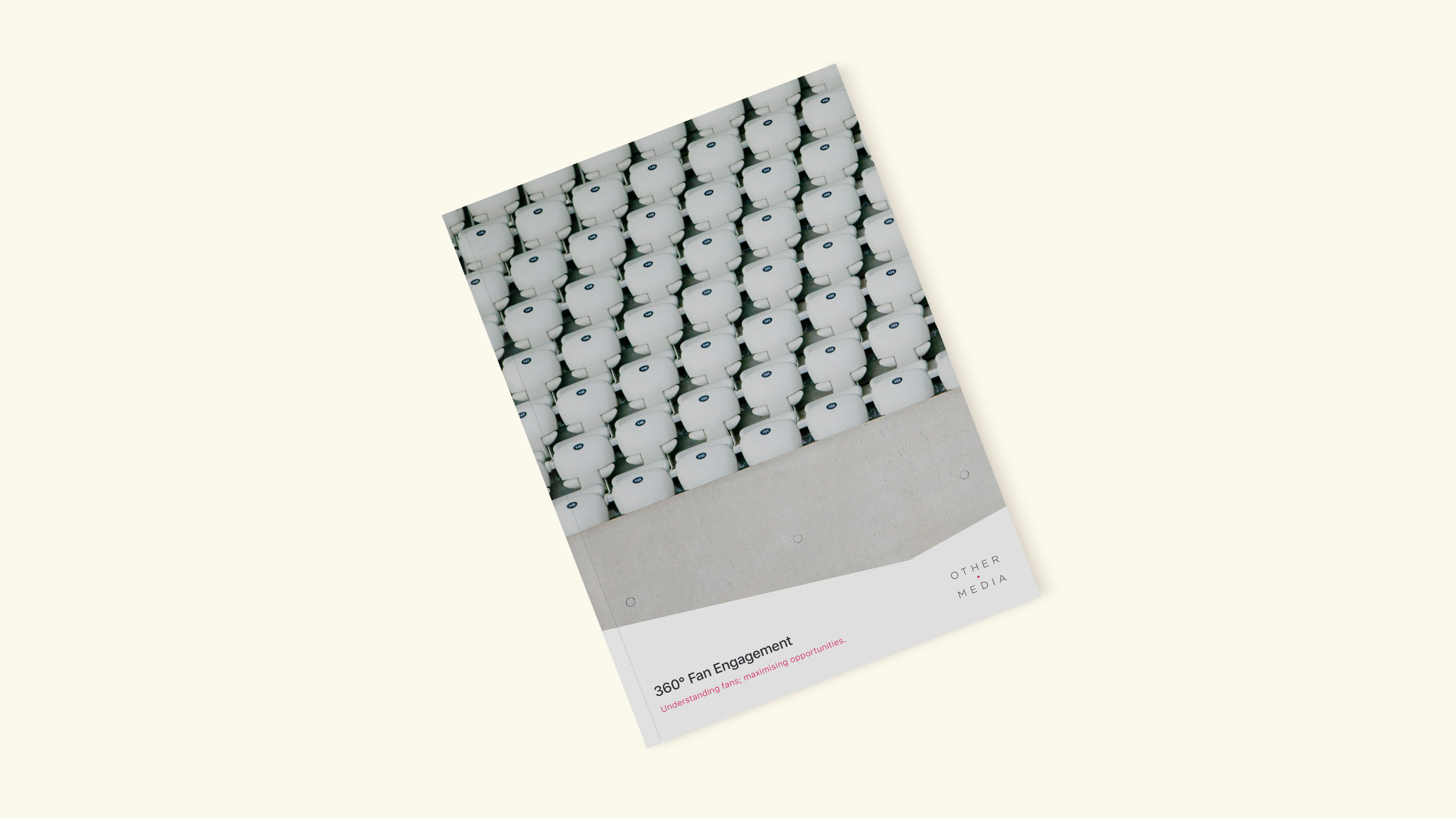 360° Fan Engagement: Understanding fans, maximising opportunities
To better understand the foundations of fan engagement strategy, take a look at our downloadable guide:
Download Guide
There are a variety of other difficulties that can act as barriers to engaging fans with cycling: tours are not on one day; they're not in a stadium or even one small location; the action passes you by in seconds; it can be slow, with sometimes little excitement until the closing sections of a stage; incorporating technologies to bring fans 'on-board' has a weight implication for the equipment (thought this needn't be prohibitive); there isn't often a loyal fanbase for a team, with fans following the sport more widely, or favouring one or two riders…the list goes on.
Despite these and other potential difficulties, there is so much that could be done.
Slow pace? Add interest with data visualisation and stats
Test cricket can be slow, but still manages to maintain an audience. By utilising vast swathes of data and making it available for fans, there is a new dimension to add to those viewing remotely and in the ground by interrogating the stats in between the action. Where a bowler pitches the ball; where the 6s are hit; reviews of decisions by the umpires – these are all adding extra information to draw in the fans. Cycling teams collect their own data via GPS trackers and power meters and, whilst some data may be deemed sensitive, there is still much that fans can benefit from the added insights from even a little data. The team behind a team of cyclists is vast and complex, from the Directeur Sportif to the physio, the dietician, the engineers…
No loyal fanbase? Develop star riders
Sports such as tennis suffer in this same way and yet there are many tennis players who have made themselves into stars of the sport. It's not just about sponsorship deals – though these deals work to harness the popularity of a player as well as giving them another platform from which to promote their brand (themselves). Events like the ATP World Tour Finals take the entertainment angle, with high-energy advertising of "the ultimate tennis show" and manage to maintain audience engagement outside of the traditional grand slam season as well as bringing in new, younger fans. They also showcase behind-the-scenes footage very well.
Interest not wide enough? Help fans to understand the sport
Gymnastics is one example where an Olympic gymnast, Nile Wilson, is bringing the sport to the masses by helping audiences to understand and so get closer to the sport. He has over 1 million subscribers to his channel and covers training, injuries and challenges that showcase some of the skills needed to be a successful gymnast. Wilson's channel features titles such as "what training for the Olympics is really like" and trickshots like the viral clip "how gymnasts get dressed".
Whilst this is the work of a small group of dedicated gymnasts, with a shift in attitudes more athletes could be doing the same in their sports. Mitchelton Scott are a pro cycling team who understand the power of video to bring fans into the world of their sport and there is much more they can do to make this work harder for them.
Fans in disparate locations? Bring the action to them
Live streaming of sport action as well as smaller chunks of edited content that can be digested on the go are crucial for maintaining audiences who are catching the action remotely, or are at an event but only getting part of the picture. Owning your own content is so important for any sports organisation or team and publishing it across the platforms where your audience want to be, not where you try to take them, is a must.
On-board action not practical? Go behind the scenes
Motorsport has made great use of on-board cameras, but this might add a weight disadvantage to elite cyclists. Still, fans love to know what their idols get up to at any and all times and an insight into training, tactics, logistics, equipment – they're all fascinating if presented in a compelling way. This also goes hand in hand with the cyclists themselves being presented in an engaging way and also bolsters the understanding of the sport.
Perception of sport as dry? Highlight the human
There needs to be a narrative that weaves in the stories of the people that make up the sport. Be that the cyclists themselves or their wider team, it fosters a connection with an audience. All too often in cycling, any attempt at showcasing the human moments are focused on the negatives, especially around rule violations, most notably the use of performance-enhancing drugs. This doesn't have to be the case and the teams, governing bodies and event organisers can control the narrative.
Your Content; Your Audience's Convenience
All of the above examples only work with a reliable digital strategy to bring the sport to the audience. When fans are demanding a mobile experience that allows them access to all areas of the sport, pre-, during-, and post-event, wherever they may be, sports bodies and teams need to give them that. Having the ability to create content once but publish it to as many platforms at you desire – website, app, wearable, social – means you are in control of the narrative whilst still giving your audience what they want, when and where they want it.
From our experience working with sports clubs and bodies, we've found that what those responsible for digital media and fan engagement need is a content distribution platform that enables the quick and easy distribution of this content. In cycling, the wealth of data that could be captured and presented to the audience is huge. With Clubcast, we deliver a CMS that pulls in live feeds to publish wherever you choose. In cycling you have the power to engage your fans with:

Real time data about the performance of the riders

Live video footage from the Directeur Sportif in the car as they make the moment-to-moment decisions about the team's strategy

Interviews with the dieticians about their plans that can make or break a stage

Predictions based on performance to date  

…and anything else that you can gather data on. The inputs available are the only limitation.

There certainly have been some efforts so far in cycling to better engage fans but the potential is yet to be more fully realised. As well as team's and individuals owning their content and making it work for them, there needs to be a global, holistic approach by all stakeholders, to take an audience-centric view of how to engage fans more widely and more deeply.

Cycling also needs to be drawing in younger audiences – as does any sport, for even those with a seemingly loyal fanbase due to a team allegiance rooted in something personal like place of birth, is now competing with a plethora of other entertainments, including esports.

Whilst there are certainly obstacles to overcome, there is a great deal of potential to be realised with some creative thinking. We will be watching Le Tour closely over the coming weeks to see how some of the recent efforts step up to really get behind the fans into the world of a cycling tour.

In the meantime, to talk to us about how Clubcast could provide all the information your fans need to build engagement and maximise commercial opportunities, get in touch: