Alex Monroe: Converting the Growth in Ecommerce Traffic with Magento 2
The restrictions on everyday life, that the COVID-19 pandemic has thrown at us, have meant an ever-increasing number of people discovering brands online. Alex Monroe is one such brand that, thanks to their newly designed and re-platformed Magento 2 website, has seen a bloom in traffic, conversion, and sales.
The handmade jewellery brand have found that their recent website redesign and re-platform has stood them in great stead to capitalise on the current growth in online shopping, especially on mobile.
We took some time to talk with Tom Graham, Ecommerce Manager at Alex Monroe, about their decision to undertake this big project, and how it is paying off.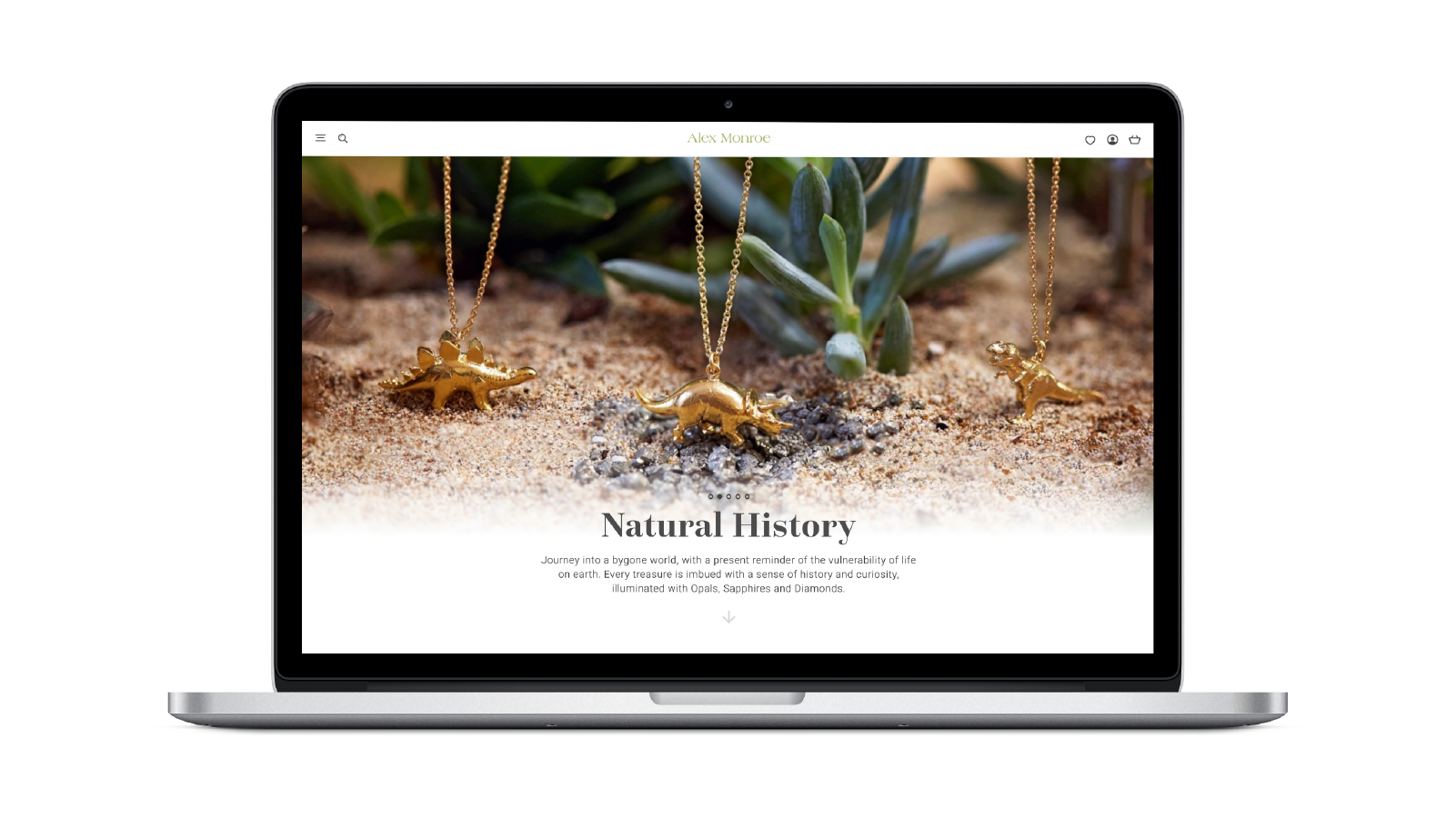 Late last year you launched the new Alex Monroe website built with Magento 2. What made you decide to take on this redesign and re-platforming project?
When we moved to Magento 1 it was a hasty move as the small company that we had built the website with was disappearing. We didn't feel so secure and so moved to Magento to become more flexible and this was done quite quickly. It was an upgrade, but it still felt like the solution we implemented was not as well rounded as we would have liked.
A few years in and we were starting to patch things and shoehorn elements into the site. It was great out of the box, but ended up that way. By this point, tech was changing and responsive sites were becoming a necessity. Our site did serve our mobile customers, but not especially well. Some A/B testing that we did with the checkout showed us some compelling results and gave us the impetus we needed to make the move.
Once you knew you needed to upgrade, what made you choose Magento 2?
We knew we would upgrade and knew it would probably be to M2, but we wanted to wait for it to settle a bit more and also be in the right position as a business as this project would be a very large investment for us.
We were just about eking enough out of the old site and by now had loads of ideas and wanted to show so many things, but we kept running into functional brick walls, so if we wanted to do more, we needed a total redesign. If we were going for a redesign, we knew we wanted to also move to Magento 2.
Though the old site had great ideas and content, it wasn't built responsively, and we were limited in the imagery we could use and we wanted to show much more. The site was hindering our ability to showcase the brand to its best. We wanted to make the online experience more intune with that of instore  – visual, engaging, a discovery but also leading the user to find things. Linking up the content was needed. The store was either facilitating shopping or information and we wanted to remove the hard divide between the two. We wanted an organic journey where the content is dotted along the shopping journey, creating a blend of content and brand, without either hindering the other.

The reason we really knew we were looking at Magento 2 was down to having been approached by sales teams from other platforms and so we were already aware how well featured M2 was compared to the alternatives, especially the premium being so much more flexible. There is such a bespoke nature to what we need to showcase and we knew there would have been lots of customisation required of other platforms. We were not convinced we could get the level of uniqueness we needed outside of M2. Plus we'd had a good experience with Magento 1. All the background data we had was on M1, and so easily transferable. We could see the trajectory of M2 whilst watching from the sidelines. Around the time of the Adobe purchase we could see good things coming. The developer community and the available plug-ins were established and long-standing. Magento 2 offered us more flexibility and minimised the risk to our business. This stability gave us chance to grow and feel confident.
You opted for Magento 2 Commerce over Open Source. What made you choose this option?
Initially we didn't even look at Commerce. We knew the project would be a big investment, but we anticipated this being mostly in the design and build of the new website. Commerce came into the conversation after we had made the decision to continue to work with OM and start work on the redesign; we had previously been on open source, so approached this project thinking it would be on the open source version. It was really the integration of the visual merchandiser into Magento Commerce that helped our decision, as this would achieve what we wanted and we couldn't see another version as comparable.
There were other bits of functionality that stood out. The scheduling tool is very useful for timed campaigns. In the past this would have caused a huge workload, whereas now, launching sales on Boxing Day, for example, can be planned ahead. Whilst the functionality is there, is it still not yet established and there are some limits but it does give us more control. The gift card functionality stood out to us. We had problems with gift cards before where we couldn't account for sales and usage. We expected it to be an additional plug- in so having it as part of the core offering made it appealing.
The page builder functionality, along with the visual merchandising, has improved our workload. Previously categories had been a laborious area of work. Another draw was the B2B functionality. We didn't have any initial plans in this area, but it is a possibility in the 3 year plan.
Now that it's almost a year old, how have you found the new M2 site?
It really is working for us. In a lot of ways because of the pandemic – how it's performed – the growth we've been experiencing has been wonderful; a little surprising, and quite grounding, it's a nice feeling to not just be surviving, but somewhat flourishing, because of the hard work that we put in beforehand. There has been an increase in traffic, and we've been able to put out the messaging we needed, and still keep the site interesting and engaging.
The improved checkout has been a big thing – in M1 it wasn't intuitive; it was multi-step; you could instantly recognise Shopify stores with their one or two step checkout. M2 is slick now. The A/B testing we had done previously showed us a simplified checkout made a big difference. Removing any friction for the customer, making it basically much better, made a big impact. The conversion rate was up on the previous site straight away. It's an important area that had been neglected but the new site's checkout was leaps and bounds better and had an impact straight away.

Traffic wise, mobile is huge, around 68% of the traffic. The conversion rate is, as would be expected, lower on mobile than desktop; but a fully responsive, mobile first checkout that is easy to use and doesn't involve 6 steps on mobile, means that the conversion rate really improved. Showcasing better imagery on mobile devices has also helped. I think the conversion rate will improve further as people become more confident shopping on a phone – the pandemic has probably helped with that. People are often afraid of shopping over wi-fi, worrying about security risks – concerns that are valid, but payments are becoming more secure and commonplace. VPNs are also more commonplace. Still, shoppers need to trust the brand first.
The integrated business intelligence looks to be a powerful tool and was a bit of a selling point. It gave us the ability to merge Magento sales data and Google Analytics into a unified reporting dashboard, however we haven't had a chance to use it yet.  We've found small things that we need to add or change; there is room for us to get more from it. With every functional area that we are using, there is more we can get out of them.
Improved reporting on the new site, the way we've done the integrations for set up of analytics, being able to track performance, user experience and journeys, means that hopefully the ideas and new concepts we want to push will be driven from their organic nature, but ratified by data. The journeys now can be brand centric, visual, and stick to Alex's core brand values without jeopardising sales improvements.
As a business we are now putting more resources behind the website as, in the current climate, it's fast become our primary sales channel.
You've worked with Other Media for many years now. What keeps you confidently working with us?
We did shop around. We had a few agencies pitch to us, but we'd spent years building a great working relationship with Other Media which meant they had so much hands-on experience with our brand, our jewellery and our way of working. Experience and insights that we would lose if we were to begin over with a new agency. Some agencies had interesting ideas, but the proof of concept that you presented to us felt like a more exciting and meaningful jump and was a refreshing take.
We had already been discussing the site's potential and our hopes of what we wanted to move towards and the team understood Alex and his unique approach.
What would your advice be to any brand considering replatforming?
If you are an M1 customer then it feels like we're now far enough along the M2 lifespan and also at the end of M1's lifespan. From a security, support, and development point of view, its proposition is a no-brainer. The move isn't an update, but a complete re-platforming. It's an investment, which can be a difficult balance with a reliance on cash-flow and confidence to invest in your ecommerce site, when things are so uncertain at the moment. Conversely though, e-commerce is the big growth area, that feels like the most stable, the most safe sales avenue at the moment. Doing a big upgrade will maximise the new online audiences, as loads more people are now shopping online, discovering brands they didn't know were there – it's a moment to take full advantage of, to really push and improve what you're doing online.
Magento Commerce is a substantial additional investment and this might not be necessary for a lot of brands, but even open source M2 is very powerful and we have noticed such a big change – front end, back end, it's so much easier for staff to use it, manage our work processes, it adds a lot of improvements. I would whole-heartedly recommend that now is the time to at least start investigating a replatform and redesign against business requirements. We have no regrets, quite the opposite, we feel very positive about the whole experience, it's been a massive benefit. If you're going to do it, make sure you can invest enough time and resources. It's not worth doing half-heartedly, you need to go all in and replatforming is the time to redesign. With new design principles and devices in use, it's a good moment to look at everything and improve on all of that. It's a good time to refocus and take stock.
Need help to flourish online?
Get in touch for a chat about how we can help you explore options to get the most from your ecommerce website
The time is now