Five Ways Apple Pay Changes Ecommerce
After its introduction in the US alongside iPhone 6 at the end of 2014, Apple Pay has gradually been replacing people's wallets around the world. It may have first been limited to mobile payments where your iPhone or Apple Watch can take the place of your regular credit or debit card in brick and mortar shops, train stations, and restaurants, but with the latest versions of Apple's desktop and mobile operating systems, Apple Pay has taken to the web.
So now that ecommerce retailers should be considering adding Apple Pay as a payment option on their sites, let's have a look at some of the ways Apple Pay will be changing the way people shop online.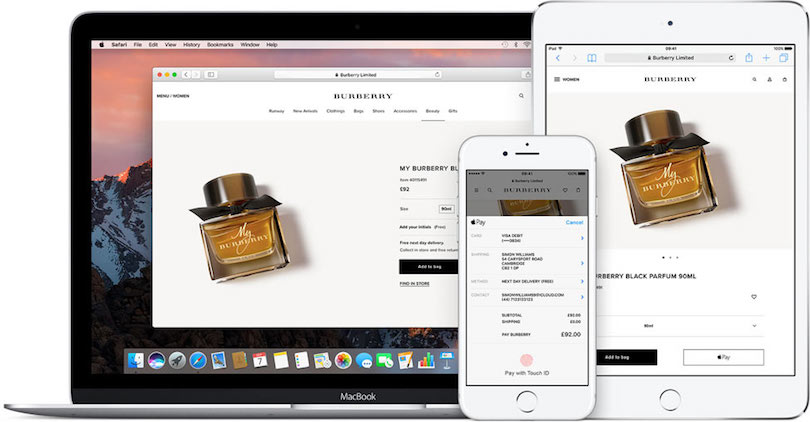 It simplifies mobile spending
With mobile commerce spending now at 34% of all ecommerce transactions and an expected mobile growth of 31% in 2017, customers are clearly turning to their smartphones when shopping online. Responsive ecommerce sites that make online shopping easier are nothing new, but the checkout process has always been the biggest roadblock in converting full baskets into completed orders. But with Apple Pay, the fiddly forms can be replaced with a simple native interface that lets shoppers pick their delivery and payment information and pay with a single tap on the Touch ID sensor. There's no need for users to enter their details again and again in each website they use as Apple Pay handles the payment and automatically passes all the required details to the retailer.
It's more than mobile
Apple Pay is often referred to as a 'mobile payment' system, but with macOS Sierra, you can now use it to pay online with any compatible Mac computer. Shoppers benefit from the same convenience of quick and easy payments without the complicated checkout forms while getting the full desktop website experience. When it comes time to make a payment, macOS Sierra seamlessly hands off to a paired iPhone or Apple Watch for fingerprint authentication, so you get the same security as on mobile. The process is even slicker on the latest MacBook Pro released last month, which has it's own built in Touch ID sensor for authenticating your Apple Pay transactions.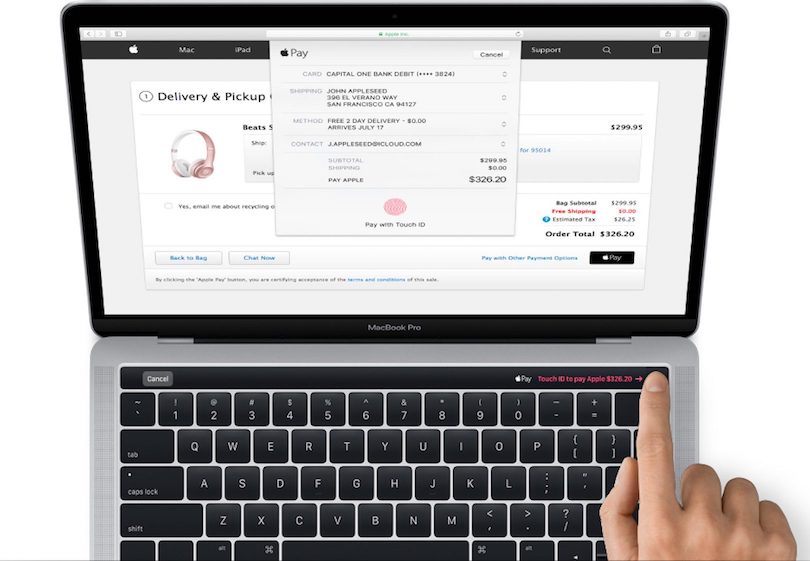 It loves the web just as much as apps
Apps may be taking over many aspects of our digital lives, but when it comes to online retail, the web is still king. Some of the world's largest online retailers, such as Amazon, have managed to make the most of in- app shopping, but most small to medium sized retailers, especially those whose customers typically make more irregular purchases, are struggling with getting users to download an app. So when the majority of your ecommerce traffic is coming from web browsers, it's important your customers get the same slick experience they would expect from an app. Apple's payment method strikes this balance as according to Stripe, an online payment provider, people are able to checkout 58 percent faster with Apple Pay and has seen conversion rates more than double.
It's more secure
It seems every month we read scary headlines of another online retailer that's had its payment details database stolen by online hackers. With each site keeping its own copy of your credit card information in the name of convenience, it's difficult to keep track of where the next breach might come from. To replace this vulnerable system, Apple Pay uses a device-specific number and unique transaction code. So your card number is not even stored on your device let alone shared with merchants when you make a purchase. Add to this Touch ID that only authenticates a payment when you tap your fingerprint on the iPhone home button, it makes it much less likely you'll be paying for someone else's shopping spree.
It's going to be everywhere
Maybe the best news of all for online retailers is that integrating Apple Pay doesn't have to be a complicated or expensive process. Many of the most popular online payment platforms including Stripe, Shopify, Worldpay, and Braintree are already integrating Apple Pay with their SDKs, so it could be added with just a few lines of code. With such as low barrier to entry it's expected that many sites will be adding Apple Pay as a payment option within the next 12 months.
We love using thoughtful UX and design to make shopping online a great experience, and Apple Pay fits perfectly with that goal. So to hear how Other Media can help your ecommerce business accept Apple Pay get in touch.